'Thank You Lord' Chris Tomlin, Thomas Rhett And Florida Georgia Line Lyric Video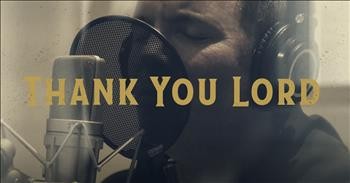 Beloved Christian artist Chris Tomlin teams up with Thomas Rhett and Florida Georgia Line for the soul-filled song, 'Thank You Lord.'

"Blessings on blessings on blessings on blessings
If I still got breath in these lungs
And that's all I need to get down on my knees
And be thankful for all that He's done"
Chris Tomlin is a staple in the Christian music scene. For decades, he has blessed the word with his talents as a phenomenal singer and gifted songwriter with hits like 'Good Good Father' and 'God's Great Dance Floor.'
Now, he's teaming up with country superstars Thomas Rhett and Florida Georgia Line for 'Thank You Lord.' Chris' latest album is an incredible country-gospel crossover that will include performances by artists such as Lady A, Raelynn and other country favorites.
On Instagram, Chris wrote about the inspiration behind the song and the entire album. "Since I was young, I have felt a calling on my life to help give people a voice to worship God. I want people to have the opportunity to worship every day of the week not just on Sundays; while they are in their car, at work, running, or just listening to whatever shows up on their playlist."
"Waking up today
I just gotta say
Thank You Lord
I just wanna say
Thank You Lord"
As you listen to these words, we are all reminded of the many blessings we are given each and every day. Thank You Lord!
Colossians 3:17 "And whatever you do, in word or deed, do everything in the name of the Lord Jesus, giving thanks to God the Father through him."
chris-tomlin

3900 views

2020-07-16T14:36:44

source: Chris Tomlin Beloved Christian artist Chris Tomlin teams up with Thomas Rhett and Florida Georgia Line for the soul-filled song, 'Thank You Lord.'

"Blessings on blessings on blessings on blessings
If I still got breath in these lungs
And that's all I need to get down on my knees
And be thankful for all that He's done"

Chris Tomlin is a staple in the Christian music scene. For decades, he has blessed the word with his talents as a phenomenal singer and gifted songwriter with hits like 'Good Good Father' and 'God's Great Dance Floor.'

Now, he's teaming up with country superstars Thomas Rhett and Florida Georgia Line for 'Thank You Lord.' Chris' latest album is an incredible country-gospel crossover that will include performances by artists such as Lady A, Raelynn and other country favorites.

On Instagram, Chris wrote about the inspiration behind the song and the entire album. "Since I was young, I have felt a calling on my life to help give people a voice to worship God. I want people to have the opportunity to worship every day of the week not just on Sundays; while they are in their car, at work, running, or just listening to whatever shows up on their playlist."

"Waking up today
I just gotta say
Thank You Lord
I just wanna say
Thank You Lord"

As you listen to these words, we are all reminded of the many blessings we are given each and every day. Thank You Lord!

Colossians 3:17 "And whatever you do, in word or deed, do everything in the name of the Lord Jesus, giving thanks to God the Father through him."

Today's Devotional
A Prayer of Praise for Worn Out Bibles - Your Daily Prayer - September 19I live in this book, with this book, and by this book. Like our verse in Hebrews says, God's word to me is "alive and active."
Top Artists