Voices Of Lee And Gordon Mote 'Because He Lives Amen' Performance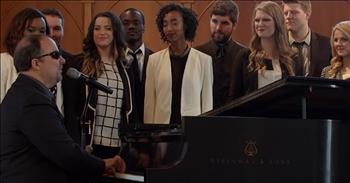 The viral sensations Voices Of Lee join together with Gordon Mote for a special performance of 'Because He Lives (Amen.)'

Christian artist Matt Maher originally released this worship song and it quickly became an instant hit. Over the years, the song has become a modern-day anthem to give thanks to our Lord in Heaven.
"I believe in the Son
I believe in the risen One
I believe I overcome
By the power of His blood"
Voices Of Lee are a vocal ensemble from Lee University in Cleveland, Tennessee. They are most notable for their a cappella covers of popular Christian hymns and modern day worship songs.
Gordon Mote is a country Christian singer and pianist. He was born blind but he didn't let that stop him from becoming an accomplished piano player. Gordon has played with famous names such as Alan Jackson and The Gaither Vocal Band.
Today, he is playing for the Voices Of Lee as they belt out the powerful words to 'Because He Lives (Amen).'
"Amen, Amen
I'm alive, I'm alive
Because He lives
Amen, Amen
Let my song join the one that never ends
Because He lives"
We are so blessed to serve such a loving and gracious Father. Let us join our voices together in praise as we sing these words out loud.
Isaiah 57:15 "For thus says the high and exalted One Who lives forever, whose name is Holy, "I dwell on a high and holy place, And also with the contrite and lowly of spirit In order to revive the spirit of the lowly And to revive the heart of the contrite."
GodTube-Music

3177 views

2019-07-15T16:18:57

source: Axel Arzola The viral sensations Voices Of Lee join together with Gordon Mote for a special performance of 'Because He Lives (Amen.)'

Christian artist Matt Maher originally released this worship song and it quickly became an instant hit. Over the years, the song has become a modern-day anthem to give thanks to our Lord in Heaven.

"I believe in the Son
I believe in the risen One
I believe I overcome
By the power of His blood"

Voices Of Lee are a vocal ensemble from Lee University in Cleveland, Tennessee. They are most notable for their a cappella covers of popular Christian hymns and modern day worship songs.

Gordon Mote is a country Christian singer and pianist. He was born blind but he didn't let that stop him from becoming an accomplished piano player. Gordon has played with famous names such as Alan Jackson and The Gaither Vocal Band.

Today, he is playing for the Voices Of Lee as they belt out the powerful words to 'Because He Lives (Amen).'

"Amen, Amen
I'm alive, I'm alive
Because He lives
Amen, Amen
Let my song join the one that never ends
Because He lives"

We are so blessed to serve such a loving and gracious Father. Let us join our voices together in praise as we sing these words out loud.

Isaiah 57:15 "For thus says the high and exalted One Who lives forever, whose name is Holy, "I dwell on a high and holy place, And also with the contrite and lowly of spirit In order to revive the spirit of the lowly And to revive the heart of the contrite."

Today's Devotional
A Prayer to Overcome Evil - Your Daily Prayer - February 20
Top Artists