'Here Again' Performance From Kim Walker-Smith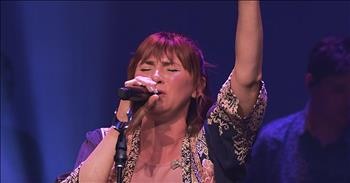 Talented Christian artist Kim Walker-Smith leads Jesus Culture in beautiful worship with 'Here Again.'

This Elevation Worship song originally appeared on the bands 2018 album 'Hallelujah Here Below.' Today, another popular Christian band is belting out the powerful words.
"Can't go back to the beginning
Can't control what tomorrow will bring
But I know here in the middle
Is the place where you promise to be
I'm not enough unless you come
Will you meet me here again
'Cause all I want is all you are
Will you meet me here again"
Jesus Culture was formed over two decades ago with the mission to draw listeners into a time of worship and prayer. The group grew out of the youth outreach ministry at the Bethel Church of Redding, California.
Kim Walker-Smith is a worship leader and singer in the band.
Today, she is leading Jesus Culture in a beautiful performance of 'Here Again.' The words remind us all that we should not let fear take over our lives.
Fear will make us believe things that aren't true and try to force us apart from the Lord. But it's in those dark times that we can find comfort in God and His promises.
He is always with us and He will never abandon us. What a beautiful song to give praise to His name.
Deuteronomy 31:8 "It is the LORD who goes before you. He will be with you; he will not leave you or forsake you. Do not fear or be dismayed."
kim-walker-smith

964 views

2019-07-02T13:46:42

source: Kim Walker-Smith Talented Christian artist Kim Walker-Smith leads Jesus Culture in beautiful worship with 'Here Again.'

This Elevation Worship song originally appeared on the bands 2018 album 'Hallelujah Here Below.' Today, another popular Christian band is belting out the powerful words.

"Can't go back to the beginning
Can't control what tomorrow will bring
But I know here in the middle
Is the place where you promise to be
I'm not enough unless you come
Will you meet me here again
'Cause all I want is all you are
Will you meet me here again"

Jesus Culture was formed over two decades ago with the mission to draw listeners into a time of worship and prayer. The group grew out of the youth outreach ministry at the Bethel Church of Redding, California.

Kim Walker-Smith is a worship leader and singer in the band.

Today, she is leading Jesus Culture in a beautiful performance of 'Here Again.' The words remind us all that we should not let fear take over our lives.

Fear will make us believe things that aren't true and try to force us apart from the Lord. But it's in those dark times that we can find comfort in God and His promises.

He is always with us and He will never abandon us. What a beautiful song to give praise to His name.

Deuteronomy 31:8 "It is the LORD who goes before you. He will be with you; he will not leave you or forsake you. Do not fear or be dismayed."

Today's Devotional
A Prayer for Wisdom in Parenting (to Pray Each Day) - Your Daily Prayer - July 21
Top Artists