'Way Maker' Live Performance From The Christ Church Choir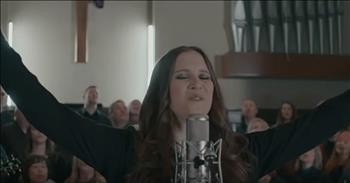 The Christ Church Choir performs a beautiful rendition of the worship tune 'Way Maker.'

This powerful song was originally recorded by Nigerian gospel singer, Sinach. Contemporary Christian artist Michael W. Smith also released a version of the song.
Today, this choir of anointed voices are belting out these words of love and praise.
"You are
Way maker, miracle worker, promise keeper
Light in the darkness, my God
That is who You are"
These words remind us that there is so much power in the Name of the Lord. He gives us so many blessings and we are free because of His grace. Let us join our voices together and shout to the world about our King of kings.
"You are here, touching every heart
I worship You
I worship You"
Isaiah 45:2-6 "I will go before you and level the exalted places, I will break in pieces the doors of bronze and cut through the bars of iron, I will give you the treasures of darkness and the hoards in secret places, that you may know that it is I, the LORD, the God of Israel, who call you by your name. For the sake of my servant Jacob, and Israel my chosen, I call you by your name, I name you, though you do not know me. I am the LORD, and there is no other, besides me there is no God; I equip you, though you do not know me, that people may know, from the rising of the sun and from the west, that there is none besides me; I am the LORD, and there is no other."
GodTube-Music

2074 views

2019-10-03T12:14:51

source: Brentwood Benson The Christ Church Choir performs a beautiful rendition of the worship tune 'Way Maker.'

This powerful song was originally recorded by Nigerian gospel singer, Sinach. Contemporary Christian artist Michael W. Smith also released a version of the song.

Today, this choir of anointed voices are belting out these words of love and praise.

"You are
Way maker, miracle worker, promise keeper
Light in the darkness, my God
That is who You are"

These words remind us that there is so much power in the Name of the Lord. He gives us so many blessings and we are free because of His grace. Let us join our voices together and shout to the world about our King of kings.

"You are here, touching every heart
I worship You
I worship You"

Isaiah 45:2-6 "I will go before you and level the exalted places, I will break in pieces the doors of bronze and cut through the bars of iron, I will give you the treasures of darkness and the hoards in secret places, that you may know that it is I, the LORD, the God of Israel, who call you by your name. For the sake of my servant Jacob, and Israel my chosen, I call you by your name, I name you, though you do not know me. I am the LORD, and there is no other, besides me there is no God; I equip you, though you do not know me, that people may know, from the rising of the sun and from the west, that there is none besides me; I am the LORD, and there is no other."

Suggested For You
---
Related Videos
---
Today's Devotional
A Prayer for Soul Rest - Your Daily Prayer - December 9
Top Artists