2 Grandmas Sing Hilarious 'Coronavirus Blues'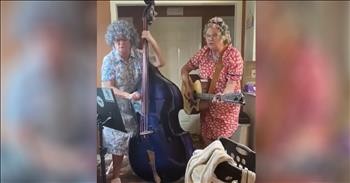 These funny grandmas are helping to flatten the curve with their hilarious song, 'Coronavirus Blues.'

As the world experiences the unprecedented effects of the Coronavirus, many people have been encouraged to self-quarantine in their homes. While this is the safest way to help contain the virus, it can definitely lead to a lot of free time and even some boredom.
That's how these two grandmas came up with their funny take on the entire Coronavirus situation.
"Left my home about a quarter to four
Looking for toilet paper and their ain't no more.
I've got the Coronavirus blues.
Yeah, the Coronavirus blues."
As these women sing the blues, you'll be laughing at loud at their hilarious antics. Just listen as they belt out the woes of staying home.
"Self-quarantine is for the birds.
What we gotta do is just flatten the curve.
I said, flatten that curve.
Yeah, flatten that curve."
So many people are getting a much-needed smile after hearing this parody. On YouTube, one viewer wrote, "You two are great. Thanks putting a smile on this shut in senior's face."
Another said, "Thank you ladies for putting a smile on my face..Be safe."
In these troubling times, it's so important to find the good each day and these ladies are definitely helping to keep the mood light and upbeat. And, even though the 'Coronavirus Blues' is comical, it also delivers an important message.
In their video description, these women reminded everyone to 'Wash your hands and Flatten that curve!'
godtube-inspiration

36986 views

2020-03-24T11:38:34

source: Chillbillie Twins These funny grandmas are helping to flatten the curve with their hilarious song, 'Coronavirus Blues.'

As the world experiences the unprecedented effects of the Coronavirus, many people have been encouraged to self-quarantine in their homes. While this is the safest way to help contain the virus, it can definitely lead to a lot of free time and even some boredom.

That's how these two grandmas came up with their funny take on the entire Coronavirus situation.

"Left my home about a quarter to four
Looking for toilet paper and their ain't no more.
I've got the Coronavirus blues.
Yeah, the Coronavirus blues."

As these women sing the blues, you'll be laughing at loud at their hilarious antics. Just listen as they belt out the woes of staying home.

"Self-quarantine is for the birds.
What we gotta do is just flatten the curve.
I said, flatten that curve.
Yeah, flatten that curve."

So many people are getting a much-needed smile after hearing this parody. On YouTube, one viewer wrote, "You two are great. Thanks putting a smile on this shut in senior's face."

Another said, "Thank you ladies for putting a smile on my face..Be safe."

In these troubling times, it's so important to find the good each day and these ladies are definitely helping to keep the mood light and upbeat. And, even though the 'Coronavirus Blues' is comical, it also delivers an important message.

In their video description, these women reminded everyone to 'Wash your hands and Flatten that curve!'

Today's Devotional
A Prayer for Strength to Endure - Your Daily Prayer - May 29
Top Artists