'Christ Be Magnified' Live Performance From Cory Asbury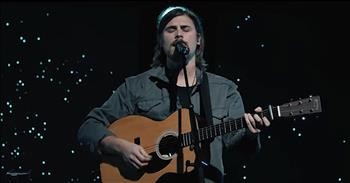 Contemporary Christian artist Cory Asbury leads us in worship with a live rendition of 'Christ Be Magnified.' These words remind us that there is no one greater than our Lord and He is worthy of all our praise.

"O! Christ be magnified!
Let His praise arise
Christ be magnified in me
O! Christ be magnified!
From the altar of my life
Christ be magnified in me"
In 2018, Cory made a splash in the Christian music world with his song 'Reckless Love.' The song won multiple Dove awards and was even named as the biggest Christian song in 2018 by Billboard.
As Cory's star was rising, he was receiving more opportunities to tour. But this came at the cost of leaving his family for long periods of time.
As much as Cory had prayed to make a mark in the music scene, he felt that God was calling him to take a step back. That's when he decided to take a year off from music and social media in 2019. He spent that time reconnecting with his family and creating a deeper relationship with God.
Today, he's back with an incredible performance of 'Christ Be Magnified.' Just listen as he sings with Bethel Music and praises the Name of our King.
"When every creature finds its inmost melody
And every human heart its native cry
O then in one enraptured hymn of praise
We'll sing 'Christ be magnified!'
O be lifted high, Jesus"
Psalm 115:1 "Not to us, O LORD, not to us, but to your name give glory, for the sake of your steadfast love and your faithfulness!"
bethel-music

3268 views

2020-03-03T12:47:06

source: Bethel Music Contemporary Christian artist Cory Asbury leads us in worship with a live rendition of 'Christ Be Magnified.' These words remind us that there is no one greater than our Lord and He is worthy of all our praise.

"O! Christ be magnified!
Let His praise arise
Christ be magnified in me
O! Christ be magnified!
From the altar of my life
Christ be magnified in me"

In 2018, Cory made a splash in the Christian music world with his song 'Reckless Love.' The song won multiple Dove awards and was even named as the biggest Christian song in 2018 by Billboard.

As Cory's star was rising, he was receiving more opportunities to tour. But this came at the cost of leaving his family for long periods of time.

As much as Cory had prayed to make a mark in the music scene, he felt that God was calling him to take a step back. That's when he decided to take a year off from music and social media in 2019. He spent that time reconnecting with his family and creating a deeper relationship with God.

Today, he's back with an incredible performance of 'Christ Be Magnified.' Just listen as he sings with Bethel Music and praises the Name of our King.

"When every creature finds its inmost melody
And every human heart its native cry
O then in one enraptured hymn of praise
We'll sing 'Christ be magnified!'
O be lifted high, Jesus"

Psalm 115:1 "Not to us, O LORD, not to us, but to your name give glory, for the sake of your steadfast love and your faithfulness!"

Today's Devotional
A Prayer for a Full Understanding of God's Word - Your Daily Prayer - August 6
Top Artists