'Home' Casting Crowns Visual Album Part 11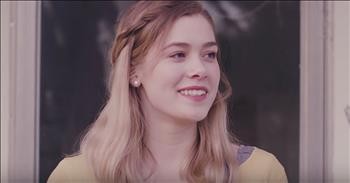 Award-winning Christian group Casting Crowns releases the eleventh, and final, installment of their visual album with the video for 'Home.' This critically acclaimed ensemble is the first Christian artist or band to release a concept video for every track on their album.

Over twelve weeks, Casting Crowns will share twelve songs from their latest album, 'Only Jesus.' Over this time period, we will be taken on a journey with a family and the highs and lows of life. But through it all, they lean on God for His guidance and support. Before you watch part ten, be sure to check out the ninth installment, 'Start Right Here.' (
https://www.godtube.com/watch/?v=1E9FEFNU)
"Oh, even through the valley
Oh, You are holding me
Your beauty is overflowing
Your face is all I see
You lift my head from sorrow
And turn my mourning into joy
I am home in the house of God
Yes, I'm home"
In part ten, we watched as a father and daughter renovated the family plantation. Now, the work is complete and it's time to decide what will become of the home that has brought so many memories to each one. The final scene truly brings this entire story full circle and it's so amazing to see the journey from beginning to end.
Luke 6:38 "Give, and it will be given to you. A good measure, pressed down, shaken together and running over, will be poured into your lap. For with the measure you use, it will be measured to you."
casting-crowns

3219 views

2019-05-29T12:15:22

source: Casting Crowns Award-winning Christian group Casting Crowns releases the eleventh, and final, installment of their visual album with the video for 'Home.' This critically acclaimed ensemble is the first Christian artist or band to release a concept video for every track on their album.

Over twelve weeks, Casting Crowns will share twelve songs from their latest album, 'Only Jesus.' Over this time period, we will be taken on a journey with a family and the highs and lows of life. But through it all, they lean on God for His guidance and support. Before you watch part ten, be sure to check out the ninth installment, 'Start Right Here.' (https://www.godtube.com/watch/?v=1E9FEFNU)

"Oh, even through the valley
Oh, You are holding me
Your beauty is overflowing
Your face is all I see
You lift my head from sorrow
And turn my mourning into joy
I am home in the house of God
Yes, I'm home"

In part ten, we watched as a father and daughter renovated the family plantation. Now, the work is complete and it's time to decide what will become of the home that has brought so many memories to each one. The final scene truly brings this entire story full circle and it's so amazing to see the journey from beginning to end.

Luke 6:38 "Give, and it will be given to you. A good measure, pressed down, shaken together and running over, will be poured into your lap. For with the measure you use, it will be measured to you."

Today's Devotional
A Prayer for When Time Doesn't Heal a Broken Heart - Your Daily Prayer - July 2
Top Artists