'Start Right Here' Casting Crowns Visual Album Part 10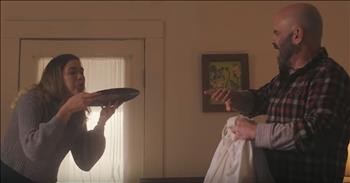 Critically acclaimed Christian group Casting Crowns releases the tenth installment of their visual album with the video for 'Start Right Here.' This award-winning ensemble is the first Christian artist or band to release a concept video for every track on their album.

Over twelve weeks, Casting Crowns will share twelve tracks from their latest album, 'Only Jesus.' We'll be taken on a journey through multiple family generations as they navigate the good times and the bad. But through it all, they lean on God for His guidance and support. Before you watch part ten, be sure to check out the ninth installment,
'The Change In Me.'
"It's got to start right here
It's got to start right now
Lord, I'm starting right here
Lord, I'm starting right now"
In part nine, we watched a young woman come to terms with her grandmother's death and find the strength to overcome her struggles. Now, she is reconnecting with her father and they are working to restore the beloved farmhouse.
"We're the people who are called by His name
If we'll surrender all our pride and turn from our ways
He will hear from Heaven and forgive our sin
He will heal our land"
Everything comes full circle when this father and daughter dance in the living room, just like he did with his mother in a previous video. God works in incredible ways and this family is the perfect example of His work in motion.
Matthew 28:19-20
"19 Therefore go and make disciples of all nations, baptizing them in the name of the Father and of the Son and of the Holy Spirit, 20 and teaching them to obey everything I have commanded you. And surely I am with you always, to the very end of the age."
casting-crowns

2948 views

2019-05-06T14:43:16

source: Casting Crowns Critically acclaimed Christian group Casting Crowns releases the tenth installment of their visual album with the video for 'Start Right Here.' This award-winning ensemble is the first Christian artist or band to release a concept video for every track on their album.

Over twelve weeks, Casting Crowns will share twelve tracks from their latest album, 'Only Jesus.' We'll be taken on a journey through multiple family generations as they navigate the good times and the bad. But through it all, they lean on God for His guidance and support. Before you watch part ten, be sure to check out the ninth installment, 'The Change In Me.'

"It's got to start right here
It's got to start right now
Lord, I'm starting right here
Lord, I'm starting right now"

In part nine, we watched a young woman come to terms with her grandmother's death and find the strength to overcome her struggles. Now, she is reconnecting with her father and they are working to restore the beloved farmhouse.

"We're the people who are called by His name
If we'll surrender all our pride and turn from our ways
He will hear from Heaven and forgive our sin
He will heal our land"

Everything comes full circle when this father and daughter dance in the living room, just like he did with his mother in a previous video. God works in incredible ways and this family is the perfect example of His work in motion.

Matthew 28:19-20 "19 Therefore go and make disciples of all nations, baptizing them in the name of the Father and of the Son and of the Holy Spirit, 20 and teaching them to obey everything I have commanded you. And surely I am with you always, to the very end of the age."

Today's Devotional
A Prayer for Deep Faithfulness - Your Daily Prayer - July 19
Top Artists