'Broken Vessels' Travis Greene Official Music Video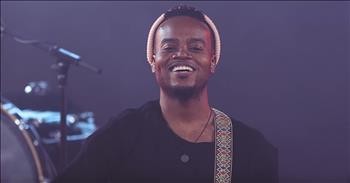 Christian artist Travis Greene shares an inspirational message with his latest single, 'Broken Vessels.' We are all unworthy of God's love and grace.

Despite our sins and shortcomings, He continues to let His mercy reign down on us each and every day.
"We fall short again
And it looks like we can't Win
You are the answer still
You are and always will be
What we need"
Travis Greene is a talented singer, songwriter and worship leader. Over the years, he's given us beautiful gospel songs such as 'You Waited' and 'Made A Way.'
On his Instagram, Travis wrote, "Remember today that God is a good God. He loves you so much and cares for you. He sees what you are going through and He promises to work everything together for your good. Keep on going. Keep your faith high because when you think He's the farthest away He's actually closer than He has ever been."
"We are broken vessels
You are our Potter
We live in a story
You are the Author
Give us the answer
We'll give the honor
From broken vessels
To our Father"
We are all broken but we are made whole again by our Father in Heaven. Let us use these lyrics to lift our voices and give praise to His Name.
Galatians 2:20 "I have been crucified with Christ. It is no longer I who live, but Christ who lives in me. And the life I now live in the flesh I live by faith in the Son of God, who loved me and gave himself for me."
travis-greene

2265 views

2019-11-07T15:32:49

source: Travis Greene Christian artist Travis Greene shares an inspirational message with his latest single, 'Broken Vessels.' We are all unworthy of God's love and grace.

Despite our sins and shortcomings, He continues to let His mercy reign down on us each and every day.

"We fall short again
And it looks like we can't Win
You are the answer still
You are and always will be
What we need"

Travis Greene is a talented singer, songwriter and worship leader. Over the years, he's given us beautiful gospel songs such as 'You Waited' and 'Made A Way.'

On his Instagram, Travis wrote, "Remember today that God is a good God. He loves you so much and cares for you. He sees what you are going through and He promises to work everything together for your good. Keep on going. Keep your faith high because when you think He's the farthest away He's actually closer than He has ever been."

"We are broken vessels
You are our Potter
We live in a story
You are the Author
Give us the answer
We'll give the honor
From broken vessels
To our Father"

We are all broken but we are made whole again by our Father in Heaven. Let us use these lyrics to lift our voices and give praise to His Name.

Galatians 2:20 "I have been crucified with Christ. It is no longer I who live, but Christ who lives in me. And the life I now live in the flesh I live by faith in the Son of God, who loved me and gave himself for me."

Today's Devotional
A Prayer for Communication During Conflict - Your Daily Prayer - August 13
Top Artists