'Clean' Hillsong UNITED Live Performance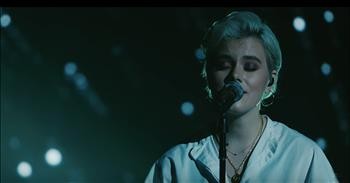 Christian worship band, Hillsong UNITED, perform a live rendition of their single 'Clean.'

This faith-filled track reminds us all that there is power in the blood of Jesus. His sacrifice on the cross paved the way for our salvation into Heaven. That priceless gift washed us clean of all our sins, now and forevermore.
"Precious blood has left me forgiven
Pure like the whitest of snow
Powerful to make sin and shame retreat
This covenant is making me whole"
Hillsong UNITED has quickly become one of the most popular Christian groups of the modern era. Many of their inspirational worship ballads, such as 'Oceans (Where Feet May Fail)' and 'So Will I (100 Billion X)' are now staple songs in church services across the world.
Now, this Australian-based band is blessing us with another beautiful song of praise with 'Clean.'
"So I will rise
And lift my head
For by His mercy
My life was spared
The highest name
Has set me free
Because of Jesus
My heart is clean"
Hillsong UNITED has a special way of connecting with the younger generation through their powerful worship songs. 'Clean' is another anthem that voices will gather together and sing for all the world to hear.
1 Peter 1: 18-19 "18 For you know that it was not with perishable things such as silver or gold that you were redeemed from the empty way of life handed down to you from your ancestors,
19 but with the precious blood of Christ, a lamb without blemish or defect."
hillsong-united

1759 views

2019-04-29T15:43:49

source: Hillsong UNITED Christian worship band, Hillsong UNITED, perform a live rendition of their single 'Clean.'

This faith-filled track reminds us all that there is power in the blood of Jesus. His sacrifice on the cross paved the way for our salvation into Heaven. That priceless gift washed us clean of all our sins, now and forevermore.

"Precious blood has left me forgiven
Pure like the whitest of snow
Powerful to make sin and shame retreat
This covenant is making me whole"

Hillsong UNITED has quickly become one of the most popular Christian groups of the modern era. Many of their inspirational worship ballads, such as 'Oceans (Where Feet May Fail)' and 'So Will I (100 Billion X)' are now staple songs in church services across the world.

Now, this Australian-based band is blessing us with another beautiful song of praise with 'Clean.'

"So I will rise
And lift my head
For by His mercy
My life was spared
The highest name
Has set me free
Because of Jesus
My heart is clean"

Hillsong UNITED has a special way of connecting with the younger generation through their powerful worship songs. 'Clean' is another anthem that voices will gather together and sing for all the world to hear.

1 Peter 1: 18-19 "18 For you know that it was not with perishable things such as silver or gold that you were redeemed from the empty way of life handed down to you from your ancestors,

19 but with the precious blood of Christ, a lamb without blemish or defect."
Today's Devotional
A Prayer for Your Aging Parent - Your Daily Prayer - October 19
Top Artists