Prank Video Turns Into Prayer Session In WalMart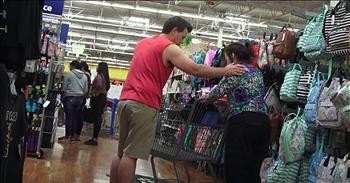 Comedian Jack Vale's prank at WalMart turned into an impromptu prayer session.

Jack Vale is known all over the Internet for his practical jokes and hidden camera experiments. One of his most pranks is called the 'Pooter' prank. Jack will walk around in a public place and use a handheld electronic device to mimic the sound of flatulence. He then records the reactions of unsuspecting strangers.
Jack is the first to admit that his humor is rather immature. But he always aims to bring laughter and smiles to a stranger's face. He said that most people find the joke funny and get to go home and tell their family and friends about the silly thing that happened to them. But recently, Jack's 'Pooter' prank at Walmart didn't go quite as planned.
He started speaking with a woman in one of the aisles and she opened up about her medical issues, husband's battle with cancer and her son's death by suicide. Despite all of the struggles in her life, this woman remained positive and laughed about their surprise interaction. That's when Jack stopped everything and asked if he could pray with her in the middle of Walmart. Together, these two shared the bond of Christ in a powerful moment of prayer.
On his YouTube page, Jack said, "I believe in the power of laughter. Even more, I believe in the power of prayer. I love what happened in this video because it shows the true power of making someone's day better. But it didn't happen because of me. The Almighty God is the one who has given me this incredible opportunity so therefore the credit ALL goes to Him."
What a truly incredible moment that shows how God can use us in any situation.
Ephesians 6:18 "And pray in the Spirit on all occasions with all kinds of prayers and requests. With this in mind, be alert and always keep on praying for all the Lord's people."
godtube-inspiration

18353 views

2019-05-21T15:02:00

source: Jack Vale Films Comedian Jack Vale's prank at WalMart turned into an impromptu prayer session.

Jack Vale is known all over the Internet for his practical jokes and hidden camera experiments. One of his most pranks is called the 'Pooter' prank. Jack will walk around in a public place and use a handheld electronic device to mimic the sound of flatulence. He then records the reactions of unsuspecting strangers.

Jack is the first to admit that his humor is rather immature. But he always aims to bring laughter and smiles to a stranger's face. He said that most people find the joke funny and get to go home and tell their family and friends about the silly thing that happened to them. But recently, Jack's 'Pooter' prank at Walmart didn't go quite as planned.

He started speaking with a woman in one of the aisles and she opened up about her medical issues, husband's battle with cancer and her son's death by suicide. Despite all of the struggles in her life, this woman remained positive and laughed about their surprise interaction. That's when Jack stopped everything and asked if he could pray with her in the middle of Walmart. Together, these two shared the bond of Christ in a powerful moment of prayer.

On his YouTube page, Jack said, "I believe in the power of laughter. Even more, I believe in the power of prayer. I love what happened in this video because it shows the true power of making someone's day better. But it didn't happen because of me. The Almighty God is the one who has given me this incredible opportunity so therefore the credit ALL goes to Him."

What a truly incredible moment that shows how God can use us in any situation.
Ephesians 6:18 "And pray in the Spirit on all occasions with all kinds of prayers and requests. With this in mind, be alert and always keep on praying for all the Lord's people."

Today's Devotional
A Prayer for Quieting the Noise - Your Daily Prayer - August 8
Top Artists