'Chainbreaker' Gaither Vocal Band Perform Zach Williams Hit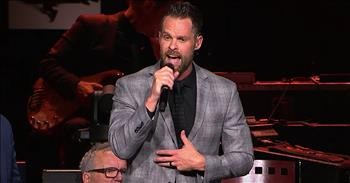 The Gaither Vocal Band sings words of praise to our Lord with their cover of 'Chainbreaker.'

This popular all-male southern ensemble has been sharing their gospel music for decades. The band name comes from the founder and leader, Bill Gaither, who has written countless hymns and worship favorites.
Since 1981, this group has performed hundreds of beloved worship tunes and beautiful original songs all over the world. Today, they're putting their own unique spin on the modern day worship song 'Chainbreaker' from Zach Williams.
"We've all search for the light of day in the dead of night
We've all found ourselves worn out from the same old fight
We've all run to things we know just ain't right
And there's a better life
There's a better life"
Group members Bill Gaither, Wes Hampton, Todd Suttles, Adam Crabb and Reggie Smith all have a gift for performing. Just listen as they belt out these powerful lyrics that reminds us all of the power and grace that comes from the Lord.
"If you've got pain
He's a pain taker
If you feel lost
He's a way maker
If you need freedom or saving
He's a prison-shaking Savior
If you've got chains
He's a chain breaker"
Isaiah 61:1 "The Spirit of the Lord GOD is upon me, because the LORD has anointed me to bring good news to the poor; he has sent me to bind up the brokenhearted, to proclaim liberty to the captives, and the opening of the prison to those who are bound."
gaither-vocal-band

2394 views

2019-10-04T16:03:15

source: Gaither Vocal Band The Gaither Vocal Band sings words of praise to our Lord with their cover of 'Chainbreaker.'

This popular all-male southern ensemble has been sharing their gospel music for decades. The band name comes from the founder and leader, Bill Gaither, who has written countless hymns and worship favorites.

Since 1981, this group has performed hundreds of beloved worship tunes and beautiful original songs all over the world. Today, they're putting their own unique spin on the modern day worship song 'Chainbreaker' from Zach Williams.

"We've all search for the light of day in the dead of night
We've all found ourselves worn out from the same old fight
We've all run to things we know just ain't right
And there's a better life
There's a better life"

Group members Bill Gaither, Wes Hampton, Todd Suttles, Adam Crabb and Reggie Smith all have a gift for performing. Just listen as they belt out these powerful lyrics that reminds us all of the power and grace that comes from the Lord.

"If you've got pain
He's a pain taker
If you feel lost
He's a way maker
If you need freedom or saving
He's a prison-shaking Savior
If you've got chains
He's a chain breaker"

Isaiah 61:1 "The Spirit of the Lord GOD is upon me, because the LORD has anointed me to bring good news to the poor; he has sent me to bind up the brokenhearted, to proclaim liberty to the captives, and the opening of the prison to those who are bound."

Today's Devotional
A Prayer to Overcome Evil - Your Daily Prayer - February 20
Top Artists