'The Breaker' Travis Greene Official Music Video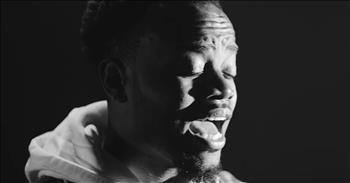 Talented Christian artist Travis Greene releases the incredible music video for his powerful new single, 'The Breaker.' This is the fourth song off of Travis' latest album, 'Broken Record.'

When you listen to the words, we are truly reminded that God is the source of our comfort and our light.
"It may not feel Good to me
But it is Good for me to be
Broken by You
Will keep
Your Hands covering me
I'm Free when I'm Broken by You"
Travis Greene is a talented singer, songwriter and pastor. Over the years, he's given us beautiful worship songs such as 'You Waited' and 'Made A Way.'
On his Instagram, he wrote about the inspiration behind 'The Breaker.' "There is not even a sound that can come without an opening. This guitar had to be broken open for a sound to come out of it...that is what [God] does in our life."
"Break the Shell of who I was
I'm safe here in Your Love
Break the Shame of what I've done
I'm safe here in Your Love"
This song of praise truly reminds us that we are nothing without God by our side. The blessed lyrics will definitely ignite a fire in your heart.
Travis has high hopes for this personal song saying, "I pray that this song is a blessing to everyone who hears it. That people realize that the breaking isn't something to be afraid of, but something that is a blessing from the Lord. He is our Breaker and our Maker. HALLELUJAH"
travis-greene

1720 views

2019-10-08T13:38:08

source: Travis Greene Talented Christian artist Travis Greene releases the incredible music video for his powerful new single, 'The Breaker.' This is the fourth song off of Travis' latest album, 'Broken Record.'

When you listen to the words, we are truly reminded that God is the source of our comfort and our light.

"It may not feel Good to me
But it is Good for me to be
Broken by You
Will keep
Your Hands covering me
I'm Free when I'm Broken by You"

Travis Greene is a talented singer, songwriter and pastor. Over the years, he's given us beautiful worship songs such as 'You Waited' and 'Made A Way.'

On his Instagram, he wrote about the inspiration behind 'The Breaker.' "There is not even a sound that can come without an opening. This guitar had to be broken open for a sound to come out of it...that is what [God] does in our life."

"Break the Shell of who I was
I'm safe here in Your Love
Break the Shame of what I've done
I'm safe here in Your Love"

This song of praise truly reminds us that we are nothing without God by our side. The blessed lyrics will definitely ignite a fire in your heart.

Travis has high hopes for this personal song saying, "I pray that this song is a blessing to everyone who hears it. That people realize that the breaking isn't something to be afraid of, but something that is a blessing from the Lord. He is our Breaker and our Maker. HALLELUJAH"

Today's Devotional
A Prayer for the Filling of God's Power and Love - Your Daily Prayer - August 4
Top Artists