Grandma And Grandson Cannot Stop Laughing At Each Other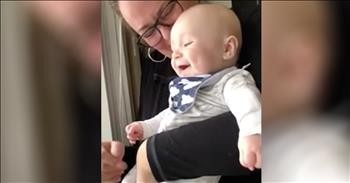 This grandma and grandson have a case of the giggles and it's the cutest thing I have seen all week. I think we can all agree that baby giggles are some of the best sounds in the whole world.

There's something about the innocence and joy in an infant that truly becomes contagious. Their smiles and laughter can light up a room and it's so hard to be angry when their angelic faces are looking right at you.
This grandmother is absolutely smitten with her grandson. 4-month-old Liam is downright adorable, but just wait until you hear his laugh. When Grandma starts to tap on the window, Liam cannot hold back the giggles. And when he starts laughing, so does this grinning grandmother. The more she taps, the louder the giggle become.
Just watch as these two go back and forth in the sweetest giggle fest you have ever seen. It's obvious these two love each other so much and it makes my heart happy to see their precious interaction. Now, after all of those smiles and laughs, I cannot help but to smile too. What about you? Don't you just love the sound of baby giggles?
Psalm 127:3-5 "3 Children are a heritage from the LORD, offspring a reward from him. 4 Like arrows in the hands of a warrior are children born in one's youth. 5 Blessed is the man whose quiver is full of them. They will not be put to shame when they contend with their opponents in court."
kidsarecute

4427 views

2019-02-21T14:15:00

source: WildCreatures This grandma and grandson have a case of the giggles and it's the cutest thing I have seen all week. I think we can all agree that baby giggles are some of the best sounds in the whole world.

There's something about the innocence and joy in an infant that truly becomes contagious. Their smiles and laughter can light up a room and it's so hard to be angry when their angelic faces are looking right at you.

This grandmother is absolutely smitten with her grandson. 4-month-old Liam is downright adorable, but just wait until you hear his laugh. When Grandma starts to tap on the window, Liam cannot hold back the giggles. And when he starts laughing, so does this grinning grandmother. The more she taps, the louder the giggle become.

Just watch as these two go back and forth in the sweetest giggle fest you have ever seen. It's obvious these two love each other so much and it makes my heart happy to see their precious interaction. Now, after all of those smiles and laughs, I cannot help but to smile too. What about you? Don't you just love the sound of baby giggles?

Psalm 127:3-5 "3 Children are a heritage from the LORD, offspring a reward from him. 4 Like arrows in the hands of a warrior are children born in one's youth. 5 Blessed is the man whose quiver is full of them. They will not be put to shame when they contend with their opponents in court."
Today's Devotional
A Prayer for the Spirit to Work in Your Life - Your Daily Prayer - May 22
Top Artists