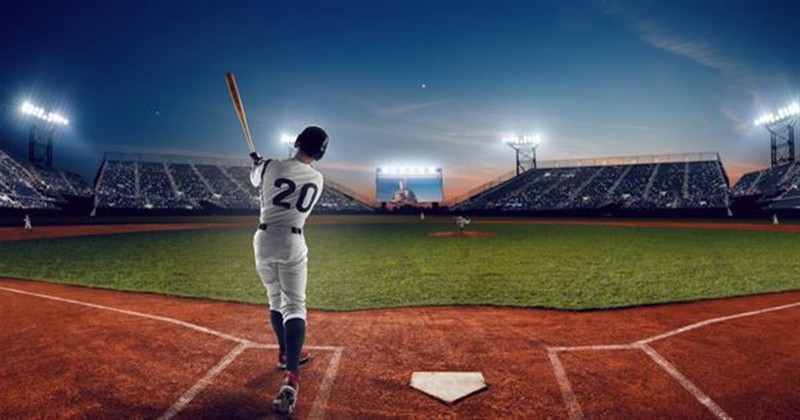 What is a walk-up song?
A walk-up song is the music that is played over the loudspeakers as a baseball player walks up to the plate, and when a new pitcher takes the mound. You can learn a lot about the player based on the type of music he/she chooses. While some players choose music based on the beat, others make their selection because the lyrics have meaning.  For Christian athletes, these lyrics are an opportunity to profess their faith in a public way. Here are a few of our favorite Christian walk-up songs!
Christian walk-up songs
Although it seemed as though a walk-up song, used for individual professional athletes whenever they enter an arena or field, just happened in major league sports such as baseball, high schools have started to adopt this tradition as well for individual players.
In addition, players may warm up to a pre-game song as well.
In either case, Christian players may want to find a song that caters to both their faith but also prepares them to give one hundred percent on the field (1 Corinthians 9:24).
Whether you need directionality on choosing your walk-up song or want to help your child choose one, consider the following Christian walk-up and pre-game songs.
Lions by Skillet
Most songs by Skillet can get the blood pumping, but this one seems to reflect verse found in Isaiah 40:31. The band encourages listeners to approach everything unafraid. We walk as lions and fly as eagles. The Holy Spirit emboldens us to face any lions den (Daniel 6) before us.
This song would best serve a team as a pre-game song, but any player in need of courage that day, perhaps going to a daunting tournament, can use this as a pump-up song. It would also make a great walk-up song for a player.
Battle Song by Lecrae
Echoing the sentiments of Psalm 23, when we go through the valley of the shadow of death, Lecrae prepares listeners to fight for their King in this battle cry song. This song works for any "do or die" moment on the field.
Not only will this song boost the adrenaline of the fans and the player who chooses it as his/her walk-up song, but it also reminds that athlete where their hope lies. Win or lose this battle on the field, they know the battle of life is won by Christ and Christ alone.
We Won't Give Up by The Afters
Nothing marks a star athlete better than persistence. Even some of the greatest Christian athletes did not accomplish such feats without facing great failure.
When an opponent seeks to knock us down and count us out, this song admonishes us to refuse to give up without a fight.
If a player feels like an underdog or needs to have extra encouragement, they should give this song a listen to see if it would accompany them best at the start of the game.
Stronger by Mandisa
Any Mandisa song can uplift a downtrodden spirit, especially after experiencing terrible seasons or several losses in a row. We can often, when faced with such experiences, think we have gotten stuck and will never achieve another win for a long time.
In need of hope and a pick-me-up before the game? This song reminds us no matter what trial we face, God uses difficult times to make us stronger. Maybe this bad season or this time spent on JV instead of the well-deserved Varsity spot will help hone your skills, so you come back fighting next year twice as strong as the year before.
Mandisa - Stronger [Live in Studio] from mandisa on GodTube.
Make War by Tedashii
Sometimes Christians can get timid in their efforts to spread the Gospel.
This song encourages Christians to take up their cross, make a difference, and make war. Even when you get knocked down, even when you face failures, you have to get up and not take these blows passively.
This song brings to mind 1 Corinthians 9:27. Both Paul and Tedashii tell Christians to discipline their body. In other words, through athletics of the body and of the mind, we can be spiritually and physically prepared to take on any adversary.
Tedashii - Make War (@tedashii @reachrecords) from tedashii on GodTube.
Game On by Disciple
This song explicitly mentions athletics instead of subtly alluding to it, as many of the other songs listed here do.
When the "game is on" we have prepared ourselves to face the opponent. The singer asks if the adversary has come prepared because "I'm ready for you."
In spite of the song's intensity, the singers remind us to love our enemies and turn the other cheek. This can serve as a cue to exercise good sportsmanship whether the events of the game turn in our favor or not. As athletes and parents, we can often forget the latter part, that everywhere is a mission's field, even a basketball court.
Ignition by TobyMac
This somewhat apocalyptic jam will get you ready to turn on the ignition and bring your A-game.
Not only can this song serve as an excellent walk-up song, but it has a dual purpose to service a team during warm-up time. The "ride or die" nature of the bridge compels teams to work together to wake up and give one hundred percent effort.
Red by Rhema Soul
During moments of intense adrenaline, athletes and soldiers have reported seeing red.
This song spins that idea on its head. When they see blood and hate, Christians should, in turn, see the red letters of Jesus Christ.
Revolution by Kirk Franklin
Kirk Franklin starts this song by quoting Revelation 7:16-17.
Not only does this song have an excellent beat and fantastic harmonies, but it encourages Christians to start a revolution.  On and off the field, we can fight against racism, two face-ism, and other isms. Although we should perform our best in our athletic endeavors, we do have to keep the bigger picture in mind. Until we reach the brighter day when God wipes away every tear from our eyes, we have to find ways to bring heaven down to earth for those who need to hear the Gospel, yes, even in our athletic activities.
Featured image credit: Getty Images/Artur Didyk
ABOUT THE AUTHOR: Hope Bolinger is a literary agent at C.Y.L.E. and a recent graduate of Taylor University's professional writing program. More than 350 of her works have been featured in various publications ranging from Writer's Digest to Keys for Kids. She has worked for various publishing companies, magazines, newspapers, and literary agencies and has edited the work of authors such as Jerry B. Jenkins and Michelle Medlock Adams. Her column "Hope's Hacks," tips and tricks to avoid writer's block, reaches 3,000+ readers weekly and is featured monthly on Cyle Young's blog, which receives 63,000+ monthly hits. Her modern-day Daniel, "Blaze," (Illuminate YA) just released. Find out more about her here.