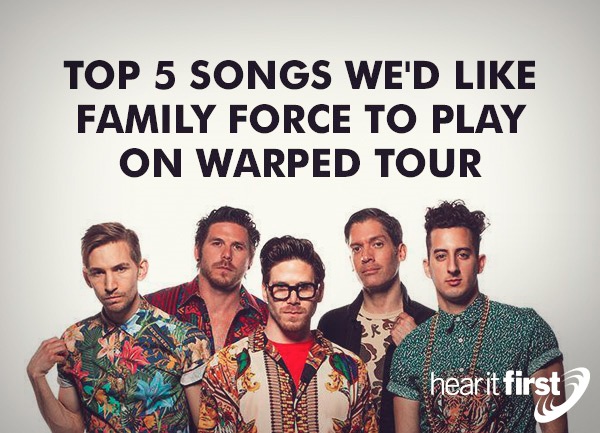 Family Force 5 is getting ready for a big Christian party on the Warped Tour, which starts June 19 in Pomona, California. They are taking it all over the country through the beginning of August. You can expect a show full of surprises with incredible energy. They make a statement with how they are dressed, which usually includes bright colors, elaborate jackets, and other attire that scream a bold statement. The exact set list of songs they will perform has not been released, so I thought we should come up with five songs to be added to the list!
Below are the top five songs we'd like Family Force 5 to play while on Warped Tour.
"Chainsaw" (feat. Tedashii)
Family Force 5 cannot perform without getting on the stage and fake running a chainsaw while screaming the lyrics "Bows to the knees, yeah, crank it like a chainsaw." This song is energizing and gets you (and the five teens with you) jumping out of your seat, letting the energy take over. The music video features lumberjacks rapping and doing the chainsaw cranking dance.
Favorite Lyrics
Drop it, drop it, drop it, down low
Chop it, chop chop it, chop, here we, here we go
Beats so sharp that they're callin' me Jaws
I'm your boss, baby, crank it like a chainsaw
Chainsaw
"Cray Button" (feat. Lecrae)
"Cray Button" is a favorite song because it gives the impression of an extreme blast of energy to accomplish something crazy! A favorite lyric is "If you ain't getting' cray, then you ain't got a pulse," which makes me think about whether there is life in what I'm doing. The music video shows people running through mud and reminds me of the exhilaration of competing in a Tough Mudder Mud Run obstacle race. Let's see this on stage!
Favorite Lyrics
I wonder what happens if I hit the cray button

I guarantee the whole place starts jumpin'
Imma do it!
Watch me hit the cray button
I hit the cray button
"Love Addict"
"Love Addict" makes me smile because Family Force 5 finds a really creative way to send the simple message that God's love conquers all. It's easy to become addicted to God's love when you begin experiencing it in its true form--full of grace and mercy. The music video shows someone going crazy and twitching because they are full of love.
Favorite Lyrics
Coming down with something outrageous
Lookout now cause it so contagious
This feeling's got me reeling
So amped up that I hit the ceiling
Gotta clear my throat
Huh huh, now I gotta have some more
"Show Love"
"Show Love" embraces many truths, including how God won't give up on you and how we are all part of God's family. I like this song because it's a little relaxed and allows the words to sink in, and it still brings a great level of energy. This song could be performed in the middle of the set list as a way to bring the level down a bit.
Favorite Lyrics
You won't give up on me
I know You won't give up on me
It's plain to see that
We are one big family
And when I'm on my own
I'm out my comfort zone
My comfort zone
"BZRK" (feat. KB)
The beat of "BZRK" is contagious, and the energy increases as you sing BZ-R-K. I imagine someone who is running or dancing, getting to the next level, and busting some intense moves. You go crazy in whatever you are doing. In the music video, the color red represents BZRK and the craziness that ensues from it. The video quickly bounces from FF5 jumping on trampolines to Star Trek-like characters smashing everything in a room. The idea of going berserk and becoming empowered with an Incredible Hulk-like type of energy can apply to a lot when thinking about accomplishing all that God has in store.
Favorite Lyrics
Hyped up on adrenaline
Feelin' like a kid again
But then again
It's a win, win, win again
So genuine, oh, so genuine
Pop, pop, pop like a firecracker
Crack that back like a chiropractor
I go berserk on a daily basis
Y'all recognize me?
I'm meltin' faces
Family Force 5 has become known for the wild energy mixed with crazy--but still clean and family friendly--performances. They are not afraid to break the norms of what a Christian artist does and says, so it's not surprising that many fearless Christians (and non-Christians) have embraced the band. Check out the Warped Tour schedule and comment with the song you hope they perform.
Article by Elise Cleary
I'm a Christian writer and editor residing in northern Michigan and thoroughly enjoy Christian centered music, movies, TV shows and books. A favorite song is "Oceans (Where Feet May Fail)" by Hillsong United and I find many songs by Matt Maher, Tim Timmons, Third Day, Laura Story, Jeremy Camp and numerous other artists uplifting. A few of my favorite Christian movies include God's Not Dead, The Shunning, Do You Believe and many by the Kendrick brothers. When I'm not writing, I enjoy running, experimenting in the kitchen and spending time with my musically gifted husband and spunky daughter. I am so blessed and in awe of the work God is doing throughout the Christian entertainment industry.