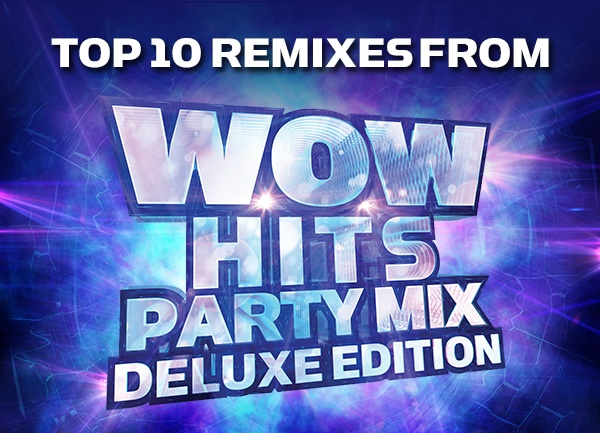 WOW Hits Party Mix just released and getting to experience some of my favorite Christian songs all over again brightens my day. The deluxe version features 36 songs over two discs. The songs maintain the original lyrics so you already know the words. I love songs that are familiar and these remixes give me the opportunity to embrace a new experience and try them out in different settings.
Here are the top 10 remixes from the newly released album WOW Hits Party Mix Deluxe Edition.
10. "Wake (Through The Night Remix)" by Young & Free
*New Remix
The original version of "Wake" was upbeat and energizing. Adding in piano, a different beat and echoing lyrics makes this remix a fun version to sing and dance to.
9. "Background ft. Andy Mineo (Remix by GAWVI)" by Lecrae
*New Remix
The theme of this song is staying in the background to what God's doing and the new remix really brings the message home. I could totally see teens pretending to be the next Lecrae or Andy Mineo – okay, maybe lip-syncing while busting some serious moves.
8. "Multiplied (Mikey Reaves Remix)" by NEEDTOBREATHE
*New Remix
I love how you hear the guitar and the drums quietly beating in the original version of "Multiplied", but I love this new version even more! This is a great worship version with the lyrics repeating in the background. It would be fun to use this song in a youth group with guys leading and the girls echoing the lyrics in the background. Give it a try!
7. "Me Without You (Telemitry Remix)" by TobyMac
Did you love the original version of "Me Without You" as much as I did? It's such an energizing song and the remix takes it to a whole new level. It starts out with a "stop and go" feel at the very beginning and the music gives the songs a great edge. Definitely a great pick for a teen dance party or youth gathering.
6. "Overwhelmed (NEVA Remix)" by Big Daddy Weave
*New Remix
This version of "Overwhelmed" brings in different instruments, including a keyboard, and it forces me to really let the words sink in. The background singers come through even stronger and the song builds to create a powerful climax. This is a great one to sing with your kids and bring home the message of how overwhelming God is.
5. "Thrive (The nightSHIFT Remix)" by Casting Crowns
*New Remix
Are you thriving today? This new version of "Thrive" by Casting Crowns will pump you up and you may even find yourself jumping as they sing the second verse and bring in a new rhythm with a drumbeat. This version is awesome for getting teens on fire for Christ.
4. "Fix My Eyes (Glory Remix)" by for KING & COUNTRY
*New Remix
When I noticed a remix version of "Fix My Eyes", I was skeptical because I can't get enough of the original song. This new version slows the song down in the beginning and adds in new instruments. I'm happy to report that you still get a great dose of the drums (thank you!). I highly recommend adding this remix to your list of worship songs you hope your church sings.
3. "All The People Said Amen (TheSoundKids Remix)" by Matt Maher
*New Remix
I love the delayed intro in this version of "All the People Said Amen". I felt like I was coasting through my day and then quietly heard Matt Maher remind me to give thanks to God. This would be a great version for a youth band to perform.
2. "Oceans (Lark Remix)" by United
The song "Oceans" is one that speaks to me and I love the original version. If this song is your song, you know, the one that happens to pierce your soul, then you'll need to add this remix to your collection. The way the music flows with the drums fading in the background during the chorus, gives it a unique taste.
1. "No Man Is An Island (Ailo Remix)" by Tenth Avenue North
*New Remix
Need a good song to wake you up in the morning? This remix of "No Man Is An Island" will energize you while breathing truths into your soul. For all you Zumba lovers out there, shouldn't this be choreographed to a new workout? Forget the coffee, just start dancing to this song and you'll be all set.
WOW Hits Party Mix Deluxe Edition has 36 songs, featuring Mandisa, Francesca Battistelli, Plumb, Group1Crew, Chris August, Colton Dixon, Family Force 5 and many other artists. It's a great album to add variety and flavor to your dance tunes, workout songs and Monday morning wake up music.
WOW Hits Party Mix Deluxe Edition is available at iTunes or wherever you buy music. (Link: http://smarturl.it/wowhitspartydeluxe)
You Can Also Check Out The Playlist On Spotify and Youtube...
Article by Elise Cleary
I am a Christian writer and editor that lives in northern Michigan and thoroughly enjoy music, movies, TV shows, books and other entertainment with a Christian focus. My favorite song is "Oceans" by Hillsong United because it reminds me that has big plans for me and everyone else who puts their trust in Him. There are many movies that have impacted my life, but a few include God's Not Dead, The Shunning and Letters to God. When I'm not writing I enjoy watching movies and laughing with my busy toddler and husband.