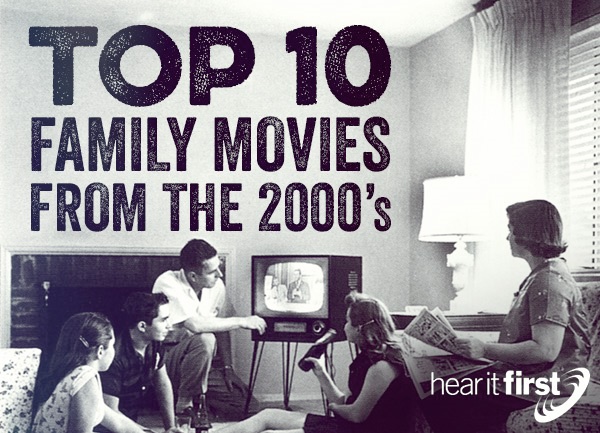 The 2000's were memorable in the world of technology for many reasons. Wikipedia launched in 2001, 2004 brought the launch of Facebook with 2005 bringing us YouTube. These three technologies have changed how marketing and advertising happens, especially with movies. Every successful movie has a Wikipedia page, Facebook page and the trailers are uploaded onto YouTube. Graphics have also improved greatly and 3D movies have become mainstream since the success of Avatar in 2009. There are so many memorable family movies especially and many, such as Cars and Ice Age have transformed into major franchises that continue to produce toys, games and clothing.
Here are the top 10 family movies from the 2000's:
#10 – Harry Potter and the Sorcerer's Stone (2001)
Favorite Quotes
Hermione, "Now if you two don't mind, I'm going to bed before either of you come up with another clever idea to get us killed – or worse, expelled."
Dumbledore, "It takes a great deal of bravery to stand up to your enemies, but a great deal more to stand up to your friends."
#9 – The Polar Express (2004)
Favorite Quote
The Conductor, "Seeing is believing, but sometimes the most real things in the world are the things we can't see."
Hero Boy, "At one time most of my friends could hear the bell, but as years passed it fell silent for all of them. Even Sarah found one Christmas that she could no longer hear its sweet sound. Though I've grown old the bell still rings for me, as it does for all who truly believe."
#8 – Shrek (2001)
Favorite Quotes
Donkey, "Blue flower, red thorns. Blue flower, red thorns. Blue flower, red thorns. Man, this would be so much easier if I wasn't COLOR-BLIND!"
Donkey, "We can stay up late, swapping manly stories, and in the morning, I'm making waffles!"
Donkey, "Whoa. Look at that. Who'd wanna live in a place like that?"
Shrek, "That would be my home."
#7 – Finding Nemo (2003)
Favorite Quotes
Dory, "I shall call him Squishy and he shall be mine and he shall be my Squishy. Come on, Squishy Come on, little Squishy."
Bruce, "I am a nice shark, not a mindless eating machine. If I am to change this image, I must first change myself. Fish are friends, not food."
Dory, "Just keep swimming. Just keep swimming. Just keep swimming, swimming, swimming. What do we do? We swim, swim."
#6 – Monsters, Inc. (2001)
Favorite Quotes
Sulley, "See that, Mikey? Ted's walking to work."
Mike, "Big deal. Guy takes five steps and he's there."
Sulley, "Mike, that's not her door."
Mike, "What are you talking about? Of course it's her door. It's her door."
Sulley, "No. Her door was white and it had flowers on it."
Boo, "Mowki Kowski."
#5 – Ice Age: Sub-Zero Heroes (2002)
Favorite Quotes
Sid, "For a second there, I actually thought you were gonna eat me."
Diego, "I don't eat junk food."
Manfred, "Hey, look at that. Dinner and a show."
Dodo, "This is our private stockpile for the Ice Age. Sub arctic temperatures will force us underground for a billion, billion years."
Manfred, "So you got three melons?"
#4 – Up (2009)
Favorite Quotes
Carl Fredricksen, "This is crazy. I finally meet my childhood hero and he's trying to kill us. What a joke."
Russell, "That might sound boring, but I think the boring stuff is the stuff I remember the most."
#3 Family Movie from the 2000's – Madagascar (2005)
Favorite Quotes
Alex the Lion: Alex the Lion, "Did he just say "Grand Central Station," or "My aunt's constipation"?"
Alex the Lion, "Come on! What does Connecticut have to offer us?" Melman the Giraffe, "Lyme disease."
Alex the Lion, "Thank you, Melman."
#2 – Cars (2006)
Favorite Quotes
Luigi, "On your marks, get set... uno for the money, due for the show, tre to get ready, and quattro to... I can't believe it... go!"
Sally, "Well, the road didn't cut through the land like that interstate. It moved with the land, it rose, it fell, it curved. Cars didn't drive on it to make great time. They drove on it to have a great time."
Ramone, "Hey, you scratched my paint! I oughta take a blowtorch to you, man!"
#1 – Toy Story 3 (2010)
Buzz Lightyear, "To infinity and beyond!"
Andy, "Now Woody, he's been my pal for as long as I can remember. He's brave, like a cowboy should be. And kind, and smart. But the thing that makes Woody special, is he'll never give up on you... ever. He'll be there for you, no matter what."
These movies bring back so many great memories and it's great to see the next generation of kids enjoying these films. What is your favorite movie from the 2000's?
Article by Elise Cleary
I am a Christian writer and editor that lives in northern Michigan and thoroughly enjoy music, movies, TV shows, books and other entertainment with a Christian focus. My favorite song is "Oceans" by Hillsong United because it reminds me that has big plans for me and everyone else who puts their trust in Him. There are many movies that have impacted my life, but a few include God's Not Dead, The Shunning and Letters to God. I also write for www.faithandentertainment.com and love connecting with readers, so please don't hesitate to contact me! When I'm not writing I enjoy watching movies and laughing with my busy toddler and husband.