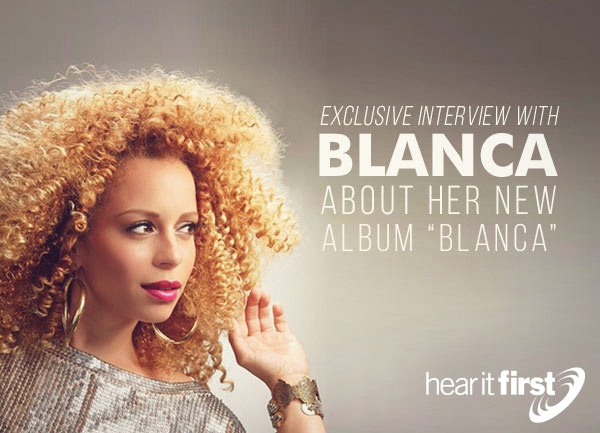 Christian singer Blanca has quickly created a name as a solo artist who is brave and strong. The song "Who I Am" was released in January while she was on Winter Jam 2015 Tour and it has been a bold entry. She released her debut album titled Blanca in May and it has already ranked seventh on U.S. Christian music charts. The entire album speaks about where she is now as a singer embracing her differences and balancing life with a career and being a wife and mom. I had a chance to catch up with Blanca in an exclusive interview to learn all about Blanca and her journey as a solo artist.
Do you have a favorite song on the album?
Blanca: "Some of my favorites are "Greater Is He" because it's a special song for me. I like "Forever Love" because that was for my hubby - he smiles when he hears its. "Get Up" because it features Lacrae and it was a dream of mine to have Lacrae on the album."
What was it like to collaborate with Tadashi and Lacrae?
Blanca: "When I was working on this new record I had it in the back of my mind to work with one of them. To get two [artists] is a big deal and they killed it. I feel like it brings a fresh sound to the album. It stems to my roots and where I came from with Group 1 Crew and you are getting a variety of sounds from the record."
What was the motivation behind "If You Say Go"?
Blanca: "It kind of describes a journey I have been on over the last year and a half. I was going into the studio sessions and writing sessions and I was a bit insecure and a bit fearful of what was ahead. It's like everything in life – you step out of your comfort zone and you choose to trust the Lord in this new adventure and season in your life. You feel like you are going to fall or fail, but I walked into this writing session and I could share my heart. This is where God has me right now and I wanted to write a song about it."
What message are you trying to send with the new album?
Blanca: "I think the underlying message behind this album is about identity and being real with who God has made you to be. Through that you have insecurities and doubt and worry and failures and mistakes. At the end of the day it's about identity and having a voice. I'm choosing to trust in that and be everything you are calling me to be."
What's one piece of advice on balancing being a mom and having a busy career?
Blanca: "To the moms out there – I feel like I'm walking in their shoes. I love what I do in my career, but I don't want [my son] to miss out on life. I think at the end of the day you have to let go of control. Having your husband and family help you is key and also taking it day by day. I'm going to be in the moment. I'm going to be present and also do what I feel God is calling me to do. A great piece of advice I received from Francesca Battistelli was that when God calls you to something, He's calling your family as well. He knows what He has planned for your son and for your husband. You just have to trust in that."
What has the journey been like leaving Group 1 Crew and becoming a solo artist?
Blanca: "The journey I have been on has stretched me in ways I haven't been stretched before and I'm learning more about myself that I haven't learned before. I want to do things that matter with my music and my life. Through it all, you are stretched and hopefully allowing that to impact the lives of other people."
What is one challenge you have overcome as a Christian artist?
Blanca: "I think the biggest challenge I've faced is being original and true to myself in the sense that going through this process you see what works for other artists and it's easy to say that you have to be like others. I feel like the biggest thing the Lord is teaching me and it's also underlined in many songs in my album, is to be real, to be true and to be me. That's who people will connect with. Be true with who you are and don't try to be like another Christian artists. It's okay to be different."
God is working fiercely through Blanca. Her transparency while talking with her and in each song sends a strong message that God intends to use the ways you are different and unique. Check out Blanca's album on iTunes and follow her on Facebook, Twitter and Instagram.
Article by Elise Cleary
I'm a Christian writer and editor residing in northern Michigan and thoroughly enjoy Christian centered music, movies, TV shows and books. A favorite song is "Oceans (Where Feet May Fail)" by Hillsong United and I find many songs by Matt Maher, Tim Timmons, Third Day, Laura Story, Jeremy Camp and numerous other artists uplifting. A few of my favorite Christian movies include God's Not Dead, The Shunning, Do You Believe and many by the Kendrick brothers. When I'm not writing, I enjoy running, experimenting in the kitchen and spending time with my musically gifted husband and spunky daughter. I am so blessed and in awe of the work God is doing throughout the Christian entertainment industry.