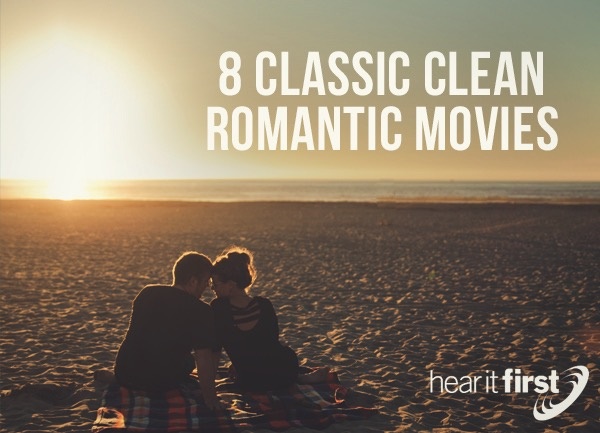 There actually are some good, clean romantic movies out there. You just have to look a bit harder than normal.

An Affair of the Heart
When I was dating, this was among my favorites. It wasn't an affair in the way we think of one today. Both characters in this movie did nothing immoral and of course there is no language or violence. It is simply a movie about time and chance and taking a risk on love. Carry Grant, as the so-called "international playboy" is headed to New York to marry his filthy rich fiancée but runs into Terry McKay, played by Deborah Kerr, who is sailing to meet her boyfriend who wants to marry her. It is one of the most romantic Hollywood movies of all time and still among one of the most viewed by older couples. This movie has absolutely nothing that would offend you, but every chance it might make you cry.
The Man from Snowy River
This movie is just fine for anyone in the family. This Australian romantic drama is based upon Banjo Paterson's poem, "The Man from Snowy River." The story begins in the 1880's Australian frontier with Jim Craig and his father discussing their financial plight when a giant herd of wild horses comes roaring by. They get the idea of trying to capture and sell the horses but tragically, Jim's father is killed in the attempt. Sadly, the station is not yet his and before he can inherit the station, he has to go down and prove himself by working the land. That's where he met an old friend names Spur who gets him a job on another station owned by Harrison who is Spur's brother. Jim seems to have a way with horses and while Jessica is portrayed as a wild, untamed filly herself. She has her own ideas regarding a woman's choices in life and choosing her own path in life as she shows by defying her father and runs off to find Jim Craig.
Sleepless in Seattle
Even though this is an old movie, somethings just don't change, and so it is was Sleepless in Seattle. This movie seems to closely resemble "An Affair to Remember" and actually includes crucial parts of that movie. This is especially true when a young man who was recently widowed is worried about his dad who can't find the right woman. When the father's son calls into a talk show to tell the host what they are dreaming or wishing for this holiday season, the boy asks for a new wife for his father. Just as in "An Affair to Remember," they seek to meet on the top of the Empire State Building in New York and by time and chance, they Sam (the father), the boy (Jonah), and the woman (Annie) meet when Jonah returned to the top floor to retrieve his teddy bear and there is Annie and they all meet for the very first time.
Love Comes Softly
The movie, "Love Comes Softly" is a 2003 romantic Christian drama starring Katherine Heigl (Marty) had just moved out western when immediately she loses her husband in a freak riding accident and Marty, having absolutely no place to live and pregnant with her late husband's baby, very reluctantly accepts an invitation to live with Clark (Dale Midkiff), who had also lost his spouse. Clark offers her food and shelter for the winter and enough money to return back East in the spring. Marty agrees to marry Clark out of convenience so she can help him with his daughter, Missie (Sky McCole Bartusiak). In the end, they discover that loves comes softly but love comes surely.
The African Queen
The movie, "The African Queen," staring Humphrey Bogart and Audrey Hepburn might seem like an odd couple and least likely to fall in love but that's the way love is. It seems that love has its own ideas about who ends up in love. Sam (Robert Morley) and Sister Rose are British Methodist missionaries but they get caught up in the German occupation of Eastern Africa during World War One. They deliver their mail and food and medical supplies via The African Queen which is piloted by the burley Captain Allnut (Humphrey Bogart). After the German's burn the missionary's headquarters, they flee and of all the most unlikely of things, they fall in love.
Ever After: A Cinderella Story
This very clean romantic movie, like the others, is great for the whole family but would especially make a great "date night" movie as it has dram and an unlikely Cinderella (in Drew Barrymore). The young Danielle (Drew Barrymore) cherishes her father but when he passes away, she is left with a resentful stepmother and three jealous stepsisters who continually run her down (thus, Cinderella Story) and so she's forced to work for her mother as a servant for a rich family where a young prince is coming of age. Danielle's stepmother seeks a "sophisticated woman" for the prince and tries to discourage Danielle from being the woman for the young prince.
The Sound of Music
"The Sound of Music" is a Richard Rogers musical with lyrics by Oscar Hammerstein II is set in beautiful Austria where the story begins on the eve of the annexation of Austria ("Anschluss"). This is a fantastic musical and among the greatest movie classics of all time but hidden within it is a romantic drama where the pressures of the occupational German forces during World War Two are starting to take away certain freedoms and an unlikely governess, Maria (Julie Andrews) takes a job for the widower Captain von Trapp.
The Princess Bride
The movie, "The Princess Bride" is a fantasy romantic comedy made in 1973 but the casting and story plot have stood the test of time in this original novel by William Goldman. Even though it's a romantic comedy, the comedy doesn't detract from the romantic part of the movie where the Princess (Buttercup) has been taken captive and forced to marry, against her will the evil Prince Humperdinck who happens to be heir to the throne of Florin. How this works out, I don't want to spoil for you, but it is well worth the watch and is as clean of a movie as can be.
Conclusion
I could have added another clean and romantic classic like "Pillow Talk," which is a romantic comedy and one that only Rock Hudson and Doris Day could pull off, but have you noticed how most of the clean, romantic movies are older? That's because it is getting harder and harder to find clean, wholesome romantic movies today that don't' clash with biblical values. These are rarely found on cable or in the video stores. Sadly, most of these great classics may have to be found online today. Even so, it will be well worth the effort.