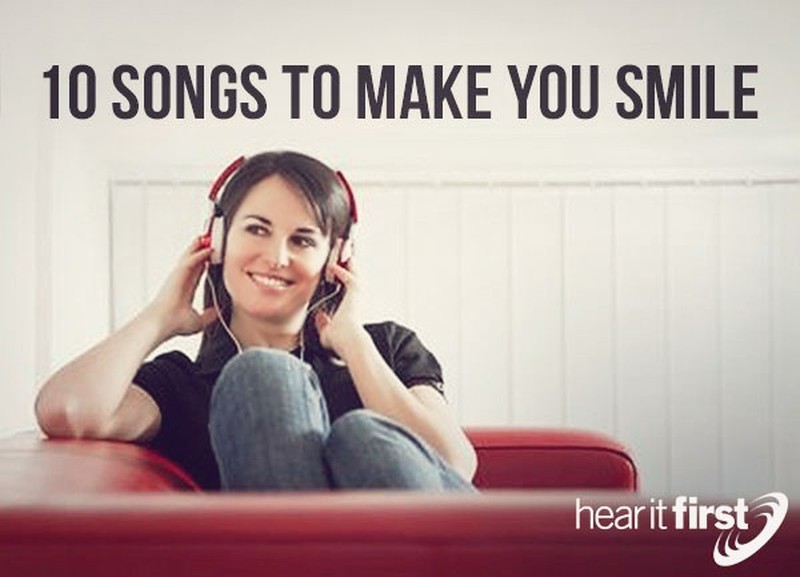 Have you watched the news lately? Too many stories are described as tragic, hopeless and sad. Senseless crimes committed, kids bullied in schools, spouses ruining their marriages and babies being abandoned. It doesn't take long to realize why countless people suffer from depression, anxiety and constant stress. You know what turns a bad day around for me? Finding a way to smile and, fortunately, Christian music does it for me. I can smile because I know that all things happen for a reason, God can transform the heart anyone who is broken and lost.
Here are 10 songs to make you smile today.
10. "That Was Then, This Is Now" by Josh Wilson
This song is bright and cheerful – it's like sipping a cup of coffee and smiling as you realize where God has taken you. You have so much to be thankful for, including the warmth of the sunshine on a cool summer day.
9. "Love Come To Life" by Big Daddy Weave
God breathes new love into any life. He restores the hopeless and broken hearted in ways you could never plan or imagine. The lyric "Bring your love to life inside of me" is a loud proclamation of what God does in your heart. He makes your heart smile from the inside out.
8. "I Smile" by Kirk Franklin
Circumstances in life can bring you down, but God is the ultimate provider of love and joy. You can still smile through the hurt and pain of losing a job, rejection, a friendship falling apart and your finances crumbling. Why can you still smile? Because you know that God is still in control.
7. "You Will Never Run" by Rend Collective
Watch the music video for "You Will Never Run" and you will immediately smile. Besides the important message that God's always by my side Rend Collective is clearly trying to make me laugh and remind me that God loves to see me happy.
6. "Write Your Story" by Francesca Battistelli
"Write Your Story" is a favorite song and one of Francesca Battistelli's biggest hits because of the simple truths it contains. This version includes some new instruments not part of the radio version. I love how God is writing my story – what part of your story makes you smile?
5. "This Is Living" by Hillsong Young & Free (feat. Lecrae)
Energy and sounds of spiritually high times spill out of this song. You can truly live in freedom when you belong to Christ. What is not to smile about? God shines through everywhere and in every situation – look around and count the ways that God has impacted your life.
4. "Who I Am" by Blanca
Do you know who you are? What's cool about Blanca is that she knows she is different and it's because that's how God created her. "Who I Am" is her honest testimony about how she's confident in who she is. You release the chains of trying to fit the standards that someone else has given you when you realize this about yourself.
3. "Soul On Fire" by Third Day (feat. All Sons & Daughters)
"Soul On Fire" will make your heart smile. Remember when you first gave your heart to Christ? You felt alive and unstoppable! Those were not one-time feelings – you can rekindle this again as you nurture your relationship with Christ everyday.
2. "Impossible" by Building 429
"There is no such thing as impossible" is my favorite lyrics from "Impossible". The music video is fun to watch with the bright colors and graphics making you jump up and dance. Impossible is not a word that describes God or His power – everything is impossible for us, but certain with God.
1. "Feel It" by TobyMac (feat. Mr. Talkbox)
"Feel It" is one of the songs on TobyMac's new album "THIS IS NOT A TEST" and it will make you smile. The song reminds me of how God transforms us everyday as He's always with us. He's there through every decision and even the moments we feel alone. "Feel It" is a great song to wake up to start your day off on the right foot.
All of these songs are full of truth and promises of what God has in store for us. There are times when we will feel down, but there is always something to smile about. Check these songs on the Spotify playlist, jump up and start dancing to this joy that has inspired each one of these artists.
Check out all of the songs on the Playlist below
Article by Elise Cleary
I'm a Christian writer and editor residing in northern Michigan and thoroughly enjoy Christian centered music, movies, TV shows and books. A favorite song is "Oceans (Where Feet May Fail)" by Hillsong United and I find many songs by Matt Maher, Tim Timmons, Third Day, Laura Story, Jeremy Camp and numerous other artists uplifting. A few of my favorite Christian movies include God's Not Dead, The Shunning, Do You Believe and many by the Kendrick brothers. When I'm not writing, I enjoy running, experimenting in the kitchen and spending time with my musically gifted husband and spunky daughter. I am so blessed and in awe of the work God is doing throughout the Christian entertainment industry.