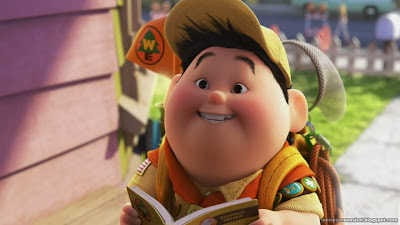 Kids movies have changed a lot from when I was growing up in the 1990's. The animation and graphics have improved tremendously, as has the amount of time a movie is released on DVD and Blu-Ray. Families are spread thin more than ever with even toddlers having scheduled activities. A great way to stay in sync as a family and enjoy light-hearted time together is by watching a fun movie. With the whit and humor in children's movies, parents often use the kids as an excuse to see the latest Disney, Pixar, Dreamworks or Universal Pictures film.
Here are 10 great kids movies that adults will love also.
"The Truth": "For I know the plans I have for you, declares the Lord, plans for welfare and not for evil, to give you a future and a hope." (Jeremiah 29:11)
10. Cloudy with a Chance of Meatballs
Flint Lockwood is used to strange looks as he tinkers with gadgets, trying to come up with the latest invention. His mother had all the faith in the world in him, but his father and the rest of the small island community of Swallow Falls do not. The main source of income for the community is a sardine cannery and when it fails, people who once avoided Flint learn to depend on his invention that turns water into food. Can this crazy macaroni and meatball-producing machine save the island from financial ruin?
9. Monster's University, 2013
Watch Mike and Sulley's adventure through college – Monster's University. You thought they were best buds, right? Not quite! Did you know which one was a shoe-in for the Scare Program? What about who was book smart? Disney Pixar does a great job blending all the details together and your family will experience thrilling laughs and screams. It's a clean movie for the whole family.
8. Finding Nemo
This film can be considered a coming of age movie for a young fish named Nemo. His father tragically lost his wife and other children because of a shark attack, so he is highly over protective. Nemo is ready to venture on his own and takes it a few swims too far. A fishing boat captures him and Nemo's dad is determined to find him. From forgetful Dory (voiceover by Ellen Degeneres) to a fish obsessed with cleanliness, an audience of any age will come away smiling and quoting, "Just keep swimming, just keep swimming, just keep swimming, swimming, swimming."
"The Truth": "And as you wish that others would do to you, do so to them."(Luke 6:31)
7. Wreck-It Ralph
Ralph is tired of always being the bad guy and wants a restart on life. No one believes him because he was created to wreck things. He gets the attention of heroes when he leaves his game and visits other games to prove he is good. He meets his challenge with Vanellope von Schweetz in a candy-coated cart racing game. Ralph is in a hurry with one life left to defend what is good before the inevitable game over.
6. The Croods
You might learn a few caveman jokes in this movie that brings a Neanderthal family to life. The family is afraid of sunlight and lives in a cave. Teenage daughter Eep is adventurous at heart and believes there is something more in the world than what she is allowed to see. One night, Eep sneaks out and meets Homosapiens Guy who controls fire and is afraid of the dark. Father, Grug, is furious and mostly afraid of light, so he resists change, even after their cave crumbles and they are forced to move.
5. Despicable Me 2
The ex-supervillain Gru thought he closed the door on crime, but the Anti-Villain League calls on his help to solve the case of a stolen secret Arctic lab. Gru gets caught up in his growing feeling toward AVL agent Lucy Wilde and his extremely overprotective nature of his daughters to realize that people are being kidnapped. Can Gru use his years of experience as a villain and help crack the case?
4. Madagascar 3: Europe's Most Wanted
All that Alex, Marty, Melman and Gloria want is to be safe and sound in their Central Park zoo. Before going back, they must find the penguins, who happen to be in Monte Carlo. Pretty soon they find themselves in a conundrum to travel without alarming Animal Control. Their solution? They join a traveling circus, which is full proof, right? Animal Control is still searching for the group since the Captain sets his sights on adding Alex to her private collection.
"The Truth": "I can do all things through him who strengthens me."(Philippians 4:13)
3. Up
Ellie and Carl Fredrickson are two lovebirds with their lives in front of them! They dream of searching out land in South America, but years pass, disappointments happen and they never get the chance. The movie passes through these initial events quickly and fast-forwards 70 years. Ellie has died and Carl is an old man who wants to be left alone. The city has been developed around him and he is finally forced to move from his home, but he won't go without a fight! His solution? Tie balloons to the top and float away to South America. This seems to work, but he is forced to bring a pesky young boy scout with him who all but ruins the adventure.
2. Ice Age: Continental Drift
Scrat is only chasing a nut through the Earth's inner core, but ends up starting a continental cataclysm that causes the world to drift apart. This sends Manny, Diego, Sid and Granny floating away. They are determined to reunite with their families, but first they have to fight off pirate Captain Gutt across the ocean. Meanwhile, Ellie, Peaches, Crash, Eddie, Louis and other animals are scrambling to find their way back too.
1. Brave
A mother's will against a daughter's will can be dangerous. This becomes the reality for young Scottish Princess Merida who is free-spirited and would rather be shooting arrows while riding a horse with her red locks bouncing untamed. Is it so wrong for Merida's mother to force her into tradition and marry one of three suitors who seem to have rocks for brains? The stress pushes the young girl to a breaking point and she meets a witch who gives her a spell to change her mom. She changes all right, but it's not how Merida had envisioned and she may never get her mother back.
Check out the trailer for Brave
Final Thoughts
What I love most about these particular movies is that there is a positive message or journey to learn from in each of them. Most likely, you will be able to relate to at least one of the main themes. Don't be afraid to watch these movies over and over again as the lines and messages sink in. What are some of your favorite kid-friendly movies?
Another article:  T0p 8 Christian Animated Movies For Kids