'Scars' Official Video From I AM THEY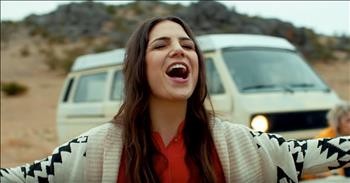 Christian band I AM THEY releases their newest single, 'Scars.' This powerful song reminds us all that God sees us through every trial and tribulation in our lives.

"Darkest water and deepest pain
I wouldn't trade it for anything
'Cause my brokenness brought me to you
And these wounds are a story you'll use
So I'm thankful for the scars
'Cause without them I wouldn't know your heart
And I know they'll always tell of who you are
So forever I am thankful for the scars"
God made the ultimate sacrifice for us when He sent His only Son down from Heaven to die for our sins. Because of that amazing sacrifice, we are all saved and free to live out our days in Heaven above. God broke our chains and truly set us free. This was such a priceless gift and we are all blessed each and every day for the love from our Father. Even though we may go through tough times, God will never leave our side. He made a promise to us all and He will never break it.
The lyrics of 'Scars' speak of our brokenness and wounds. But it's those very things that we may be ashamed of that brought up closer to the Lord.
1 John 1: 7-9 "7 But if we walk in the light, as he is in the light, we have fellowship with one another, and the blood of Jesus, his Son, purifies us from allsin. 8 If we claim to be without sin, we deceive ourselves and the truth is not in us. 9 If we confess our sins, he is faithful and just and will forgive us our sins and purify us from all unrighteousness."
i-am-they

20174 views

2019-02-11T11:37:00

source: I AM THEY Christian band I AM THEY releases their newest single, 'Scars.' This powerful song reminds us all that God sees us through every trial and tribulation in our lives.

"Darkest water and deepest pain
I wouldn't trade it for anything
'Cause my brokenness brought me to you
And these wounds are a story you'll use
So I'm thankful for the scars
'Cause without them I wouldn't know your heart
And I know they'll always tell of who you are
So forever I am thankful for the scars"

God made the ultimate sacrifice for us when He sent His only Son down from Heaven to die for our sins. Because of that amazing sacrifice, we are all saved and free to live out our days in Heaven above. God broke our chains and truly set us free. This was such a priceless gift and we are all blessed each and every day for the love from our Father. Even though we may go through tough times, God will never leave our side. He made a promise to us all and He will never break it.

The lyrics of 'Scars' speak of our brokenness and wounds. But it's those very things that we may be ashamed of that brought up closer to the Lord.

1 John 1: 7-9 "7 But if we walk in the light, as he is in the light, we have fellowship with one another, and the blood of Jesus, his Son, purifies us from allsin. 8 If we claim to be without sin, we deceive ourselves and the truth is not in us. 9 If we confess our sins, he is faithful and just and will forgive us our sins and purify us from all unrighteousness."
Today's Devotional
A Prayer for When Life Gets You Down - Your Daily Prayer - July 6
Top Artists