Adorable Baby Girl Reacts To Mom Singing Little Mermaid Disney Song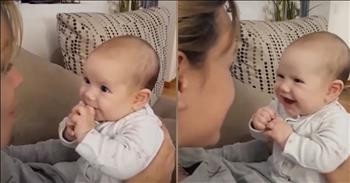 We love precious moments captured on video! Especially this baby girl's adorable reaction to her mom singing a beloved Disney song. Do you remember the first time you were entranced by a Disney movie or song?

One of the most recognized tunes from "The Little Mermaid" is the song selection for entertaining this cheery, squishy baby! We are not certain if this is the very first time this baby girl has heard the song, but one thing we do know is that she is thoroughly captivated by it! At first, the little one seems to just be happy with the one-on-one time from mommy. She is truly loving hearing Mom sing! As the performance continues, the baby's eyes are fixed, taking it all in! Mom expertly recites the Disney song as if she is Ariel herself, while holding onto baby. It's clear that Mom really likes this song, too! The reactions we see from the little girl are undeniable joy and a transfixed expression. It's almost as if she understands and is reacting to the lyrics of each verse! With eyes wide open, the baby grins, holds her hands to her mouth and even pauses in a stare full of wonder. We just can't get enough of her adorable facial expressions!
These moments are beautifully captured and will surely bring back fond memories for this family. While we don't think this adorable baby girl will need to trade fins for feet, It's pretty safe to say this little human will have a special place in her heart for Disney's, "The Little Mermaid."
kidsarecute

17358 views

2018-10-17T14:38:56

source: The Independent We love precious moments captured on video! Especially this baby girl's adorable reaction to her mom singing a beloved Disney song. Do you remember the first time you were entranced by a Disney movie or song?

One of the most recognized tunes from "The Little Mermaid" is the song selection for entertaining this cheery, squishy baby! We are not certain if this is the very first time this baby girl has heard the song, but one thing we do know is that she is thoroughly captivated by it! At first, the little one seems to just be happy with the one-on-one time from mommy. She is truly loving hearing Mom sing! As the performance continues, the baby's eyes are fixed, taking it all in! Mom expertly recites the Disney song as if she is Ariel herself, while holding onto baby. It's clear that Mom really likes this song, too! The reactions we see from the little girl are undeniable joy and a transfixed expression. It's almost as if she understands and is reacting to the lyrics of each verse! With eyes wide open, the baby grins, holds her hands to her mouth and even pauses in a stare full of wonder. We just can't get enough of her adorable facial expressions!

These moments are beautifully captured and will surely bring back fond memories for this family. While we don't think this adorable baby girl will need to trade fins for feet, It's pretty safe to say this little human will have a special place in her heart for Disney's, "The Little Mermaid."
Today's Devotional
A Prayer for When You Feel Hopeless - Your Daily Prayer - March 20
Top Artists