'Anthem' Phil Wickham Live Performance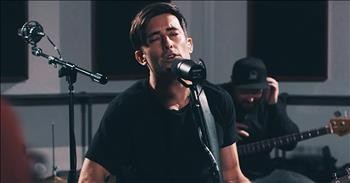 Christian artist Phil Wickham delivers a special performance of his single 'Anthem.' You can find this song and others on his latest release, "Living Hope (The House Sessions)."

"Jesus, the anthem of my heart
Jesus, the anchor of my soul
I'm overwhelmed by all You are
Oh how I love You
Jesus, the anthem of my heart
Jesus, the anchor of my soul
I'm overwhelmed by all You are
Oh how I love You"
God is truly out light and our strength. These powerful lyrics from Phil Wickham remind us that the Lord gave everything to grant us salvation. No matter our sins or sorrows, God stands by us through it all. His never-ending love and grace has been praised for thousands of years. And today, we continue to sing of His blessings as we join our voices with the words of 'Anthem.' This modern-day Christian tune speaks about God's faithfulness and beauty.
"Faithful to the end
God You are always good
Where do I begin
There's so many reasons to love You
Your promise never breaks
Your beauty never fades
What else can I say
There's so many reasons to love You"
This incredible performance is part of Phil Wickham's House Sessions. What a truly amazing way to give praise to our Lord.
Galatians 2:20 "I have been crucified with Christ and I no longer live, but Christ lives in me. The life I now live in the body, I live by faith in the Son of God, who loved me and gave himself for me."
phil-wickham

5183 views

2019-01-28T11:03:56

source: Phil Wickham Music Christian artist Phil Wickham delivers a special performance of his single 'Anthem.' You can find this song and others on his latest release, "Living Hope (The House Sessions)."

"Jesus, the anthem of my heart
Jesus, the anchor of my soul
I'm overwhelmed by all You are
Oh how I love You
Jesus, the anthem of my heart
Jesus, the anchor of my soul
I'm overwhelmed by all You are
Oh how I love You"

God is truly out light and our strength. These powerful lyrics from Phil Wickham remind us that the Lord gave everything to grant us salvation. No matter our sins or sorrows, God stands by us through it all. His never-ending love and grace has been praised for thousands of years. And today, we continue to sing of His blessings as we join our voices with the words of 'Anthem.' This modern-day Christian tune speaks about God's faithfulness and beauty.

"Faithful to the end
God You are always good
Where do I begin
There's so many reasons to love You
Your promise never breaks
Your beauty never fades
What else can I say
There's so many reasons to love You"

This incredible performance is part of Phil Wickham's House Sessions. What a truly amazing way to give praise to our Lord.

Galatians 2:20 "I have been crucified with Christ and I no longer live, but Christ lives in me. The life I now live in the body, I live by faith in the Son of God, who loved me and gave himself for me."
Today's Devotional
A Prayer for Deep Faithfulness - Your Daily Prayer - July 19
Top Artists