Miracle Baby Found Alive In Rubble After 35 Hours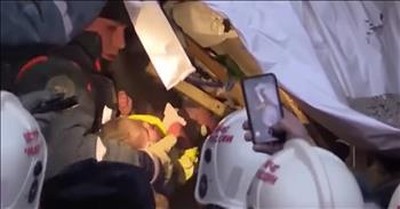 An 11-month-old baby was found alive after spending more than 35 hours trapped under rubble. Baby Ivan was wrapped in his blanket as first responders pulled him out of a collapsed apartment building.

The baby was buried for hours in sub-freezing temperatures, yet somehow he survived. When he was discovered, Ivan was quickly rushed to the hospital for treatment. Ivan suffered from fractures, a head injury and hypothermia but he is expected to pull through.
The infant's mother and brother were also rescued from the building and they are beyond thankful for Ivan's miraculous recovery. At least 18 people have been killed when the 10-story building in Magnitogorsk, Russia fell and dozens of others still remain unaccounted for.
First responders are still working to recover as many people as possible. The explosion started on the first floor and caused higher floors to collapse. The apartment complex was home to 120 people and 48 apartments were destroyed with many others suffering damage. Officials believe that a gas explosion caused the initial collapse, but an investigation is still underway.
With all of these statistics, it's truly a miracle that an infant baby was able to survive. But God is greater than anything on this Earth and that tiny baby gave hope and faith to hundreds all around the area.
Acts 3:16 "By faith in the name of Jesus, this man whom you see and know was made strong. It is Jesus' name and the faith that comes through him that has completely healed him, as you can all see."
godtube-inspiration

1285 views

2019-01-04T11:39:16

source: Inside Edition An 11-month-old baby was found alive after spending more than 35 hours trapped under rubble. Baby Ivan was wrapped in his blanket as first responders pulled him out of a collapsed apartment building.

The baby was buried for hours in sub-freezing temperatures, yet somehow he survived. When he was discovered, Ivan was quickly rushed to the hospital for treatment. Ivan suffered from fractures, a head injury and hypothermia but he is expected to pull through.

The infant's mother and brother were also rescued from the building and they are beyond thankful for Ivan's miraculous recovery. At least 18 people have been killed when the 10-story building in Magnitogorsk, Russia fell and dozens of others still remain unaccounted for.

First responders are still working to recover as many people as possible. The explosion started on the first floor and caused higher floors to collapse. The apartment complex was home to 120 people and 48 apartments were destroyed with many others suffering damage. Officials believe that a gas explosion caused the initial collapse, but an investigation is still underway.

With all of these statistics, it's truly a miracle that an infant baby was able to survive. But God is greater than anything on this Earth and that tiny baby gave hope and faith to hundreds all around the area.


Acts 3:16 "By faith in the name of Jesus, this man whom you see and know was made strong. It is Jesus' name and the faith that comes through him that has completely healed him, as you can all see."
Today's Devotional
A Prayer to Remember That Joy Is a Way of Life - Your Daily Prayer - May 21
The Bible commands us, "be joyful aways!"
Top Artists
Top Music Videos