Violin Rendition Of 'Before The Throne Of God Above' From Taryn Harbridge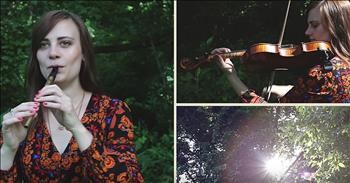 Violinist Taryn Harbridge shares her God-given talent as she performs a beautiful rendition of 'Before the Throne of God Above.' This hymn from the late 1800s has truly stood the test of time. The lyrics remind us all that God is amazing and worthy of our praise.

"Behold Him there, the risen Lamb
My perfect, spotless Righteousness
The great unchangeable I AM
The King of glory and of grace
One with Himself, I cannot die
My soul is purchased by His blood
My life is hid with Christ on high
With Christ my Savior and my God"
Today, talented violinist Taryn Harbridge is lending her musical skills to this touching song. Just listen as she beautifully plays the tune with the backdrop of nature. Taryn even utilizes the flute to give this song a Celtic-sound. There's no doubt that this young woman was blessed with a God-given talent and it's so incredible to watch her use that talent to give praise to His name. 'Before The Throne Of God Above' may not be heard that often anymore, but it's through the work of artists, like Taryn, that the next generation will hear His message of love and hope.
Revelation 4:9-10 "And whenever the living creatures give glory and honor and thanks to him who is seated on the throne, who lives forever and ever, the twenty-four elders fall down before him who is seated on the throne and worship him who lives forever and ever. They cast their crowns before the throne."
GodTube-Music

2560 views

2019-06-28T14:12:56

source: Taryn Harbridge Violinist Taryn Harbridge shares her God-given talent as she performs a beautiful rendition of 'Before the Throne of God Above.' This hymn from the late 1800s has truly stood the test of time. The lyrics remind us all that God is amazing and worthy of our praise.

"Behold Him there, the risen Lamb
My perfect, spotless Righteousness
The great unchangeable I AM
The King of glory and of grace
One with Himself, I cannot die
My soul is purchased by His blood
My life is hid with Christ on high
With Christ my Savior and my God"

Today, talented violinist Taryn Harbridge is lending her musical skills to this touching song. Just listen as she beautifully plays the tune with the backdrop of nature. Taryn even utilizes the flute to give this song a Celtic-sound. There's no doubt that this young woman was blessed with a God-given talent and it's so incredible to watch her use that talent to give praise to His name. 'Before The Throne Of God Above' may not be heard that often anymore, but it's through the work of artists, like Taryn, that the next generation will hear His message of love and hope.

Revelation 4:9-10 "And whenever the living creatures give glory and honor and thanks to him who is seated on the throne, who lives forever and ever, the twenty-four elders fall down before him who is seated on the throne and worship him who lives forever and ever. They cast their crowns before the throne."

Today's Devotional
A Prayer for Your Aging Parent - Your Daily Prayer - October 19
Top Artists