Sweet Dad Sings Rascal Flatts Song To His Baby Girl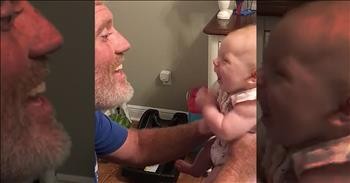 It was a heartwarming moment captured on camera when this dad sings to his baby girl. There is truly nothing like the relationship between a father and his daughter.

It's a special bond that can't quite be described and there is a love that knows no bounds. From the moment of her birth, a father is tasked with loving and protecting their sweet girl.
Throughout her life, a daughter will lean on her father during the good times and the bad. There are sure to be so many incredible memories to look back on and that's exactly what we see here today.
This Daddy and his sweet little girl are sharing a very special moment as they sing together. Just listen as Daddy holds onto his daughter and sings the words of 'Moving On' from the country group Rascal Flatts. The baby cannot keep her eyes off of Daddy and she evens starts to join in.
What started as a serenade ends as an adorable duet between the pair. I'm so glad that this entire concert-session was captured on camera and, now, the family can cherish this moment for a lifetime.
Who else is smiling so big right now?
Psalm 127:3-5 "3 Children are a heritage from the LORD, offspring a reward from him. 4 Like arrows in the hands of a warrior are children born in one's youth. 5 Blessed is the man whose quiver is full of them. They will not be put to shame when they contend with their opponents in court."
kidsarecute

22287 views

2019-10-18T12:26:04

source: Danielle Johnson Jones It was a heartwarming moment captured on camera when this dad sings to his baby girl. There is truly nothing like the relationship between a father and his daughter.

It's a special bond that can't quite be described and there is a love that knows no bounds. From the moment of her birth, a father is tasked with loving and protecting their sweet girl.

Throughout her life, a daughter will lean on her father during the good times and the bad. There are sure to be so many incredible memories to look back on and that's exactly what we see here today.

This Daddy and his sweet little girl are sharing a very special moment as they sing together. Just listen as Daddy holds onto his daughter and sings the words of 'Moving On' from the country group Rascal Flatts. The baby cannot keep her eyes off of Daddy and she evens starts to join in.

What started as a serenade ends as an adorable duet between the pair. I'm so glad that this entire concert-session was captured on camera and, now, the family can cherish this moment for a lifetime.

Who else is smiling so big right now?

Psalm 127:3-5 "3 Children are a heritage from the LORD, offspring a reward from him. 4 Like arrows in the hands of a warrior are children born in one's youth. 5 Blessed is the man whose quiver is full of them. They will not be put to shame when they contend with their opponents in court."

Today's Devotional
A Prayer for a Strong Marriage - Your Daily Prayer - August 9
Top Artists