'I Will Fear No Evil' Live Performance From Voices Of Gaither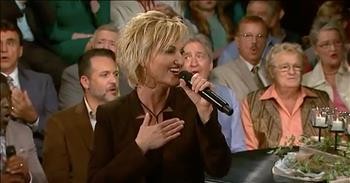 Some of our favorite Gaither voices are leading us in worship with 'I Will Fear No Evil.' These rousing lyrics remind us all that there is nothing to fear when we have the Lord by our side.

"I will fear no evil
I will dread no pain
Through the blood of Jesus
My suffering's not in vain
God will get the glory
For all my soul endures
I will fear no evil"
'I Will Fear No Evil' is a classic gospel song with an important message. And today, some of the most famous voices from the Gaither Music group are coming together to help spread the word.
Just listen as they all gather around and belt out these powerful lyrics.
"Shadows cannot harm me
With the threat of death
I know in whom I have believe
He's never failed me yet"
We are so blessed to serve such a loving and comforting Father in Heaven. He is truly our light in the darkness and our strength when we are weak.
When we put our trust in Him, there is no obstacle too big to face. As we sing out these words, let us be reminded of His never-ending love and power that reigns over each and every one of us.
Philippians 4:6-7 "Do not be anxious about anything, but in everything by prayer and supplication with thanksgiving let your requests be made known to God. And the peace of God, which surpasses all understanding, will guard your hearts and your minds in Christ Jesus."
GodTube-Music

4254 views

2020-03-05T11:09:05

source: Gaither Music TV Some of our favorite Gaither voices are leading us in worship with 'I Will Fear No Evil.' These rousing lyrics remind us all that there is nothing to fear when we have the Lord by our side.

"I will fear no evil
I will dread no pain
Through the blood of Jesus
My suffering's not in vain
God will get the glory
For all my soul endures
I will fear no evil"

'I Will Fear No Evil' is a classic gospel song with an important message. And today, some of the most famous voices from the Gaither Music group are coming together to help spread the word.

Just listen as they all gather around and belt out these powerful lyrics.

"Shadows cannot harm me
With the threat of death
I know in whom I have believe
He's never failed me yet"

We are so blessed to serve such a loving and comforting Father in Heaven. He is truly our light in the darkness and our strength when we are weak.

When we put our trust in Him, there is no obstacle too big to face. As we sing out these words, let us be reminded of His never-ending love and power that reigns over each and every one of us.

Philippians 4:6-7 "Do not be anxious about anything, but in everything by prayer and supplication with thanksgiving let your requests be made known to God. And the peace of God, which surpasses all understanding, will guard your hearts and your minds in Christ Jesus."

Today's Devotional
A Prayer for God's Presence - Your Daily Prayer - May 28
Top Artists