Christian Couple Sing Duet Of 'Build My Life' By Pat Barrett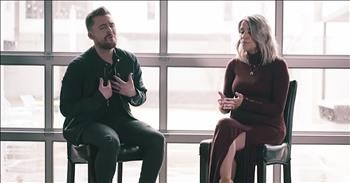 Christian couple Caleb and Kelsey Grimm lead us in worship with 'Build My Life' from Pat Barrett.

These beautiful words are such a perfect reminder that He is worthy of all of our praise and we lift our voices up in song.
'Worthy of every song we could ever sing
Worthy of all the praise we could ever bring
Worthy of every breath we could ever breathe
We live for You'
Today, Caleb + Kelsey are putting their own unique spin on 'Build My Life.' Together, these two powerhouse voices have brought us brilliant worship covers and secular favorites such as 'Oceans (Where Feet May Fail)' and 'My Heart Will Go On.'
As Christians, Caleb and Kelsey love to use their God-given talent worship the Lord. And now, we are all singing along with this powerful song about our God and Savior.
'I will build my life upon
Your love It is a firm foundation
I will put my trust in You alone
And I will not be shaken'
As we sing along with these amazing words, we are overcome with love for the Lord. He has truly given us so many blessings in this life and we are so thankful for each and every one.
Let these lyrics be your guide as you lift your hands in the arm and give Him all the praise and thanks.
Revelation 4:11 "Worthy are you, our Lord and God, to receive glory and honor and power, for you created all things, and by your will they existed and were created."
anthem-lights

1183 views

2020-02-24T12:23:21

source: Anthem Lights Christian couple Caleb and Kelsey Grimm lead us in worship with 'Build My Life' from Pat Barrett.

These beautiful words are such a perfect reminder that He is worthy of all of our praise and we lift our voices up in song.

'Worthy of every song we could ever sing
Worthy of all the praise we could ever bring
Worthy of every breath we could ever breathe
We live for You'

Today, Caleb + Kelsey are putting their own unique spin on 'Build My Life.' Together, these two powerhouse voices have brought us brilliant worship covers and secular favorites such as 'Oceans (Where Feet May Fail)' and 'My Heart Will Go On.'

As Christians, Caleb and Kelsey love to use their God-given talent worship the Lord. And now, we are all singing along with this powerful song about our God and Savior.

'I will build my life upon
Your love It is a firm foundation
I will put my trust in You alone
And I will not be shaken'

As we sing along with these amazing words, we are overcome with love for the Lord. He has truly given us so many blessings in this life and we are so thankful for each and every one.

Let these lyrics be your guide as you lift your hands in the arm and give Him all the praise and thanks.

Revelation 4:11 "Worthy are you, our Lord and God, to receive glory and honor and power, for you created all things, and by your will they existed and were created."

Today's Devotional
A Prayer of Love from 1 Corinthians 13 - Your Daily Prayer - March 29
Top Artists