'Over And Over' Riley Clemmons Featuring Lauren Alaina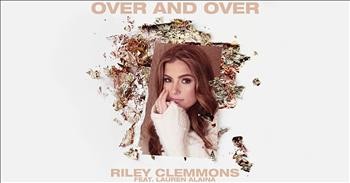 Contemporary Christian artist Riley Clemmons and country star Lauren Alaina come together for a worship-filled performance of 'Over And Over.'

These words are the perfect reminder that no matter the obstacles we face, God is always by our side.
"But somehow You choose me
Over and over again
Over and over again
You keep running to me
No matter where I am"
In 2017, Riley took the Christian music scene by storm with her single 'Broken Prayers.' The song rose to the top of the charts and, since that time, this inspiring singer has continued to use her voice to spread God's message.
Today, she's teaming up with one of the biggest names in country music, Lauren Alaina. Lauren got her start as the runner-up on the tenth season of American Idol but she quickly made a name for herself in the country world. Together, these two powerhouse vocalists are using their talents to praise the Name of our Lord with 'Over And Over.'
"Over and over again
I get lost I must confess
Oh, how quickly I forget
But You keep on showing me I'm loved
Over and over again"
What a blessing to hear these women lift up the Lord and spread His message of love and peace to the world.
Joshua 24:15 "And if it is evil in your eyes to serve the LORD, choose this day whom you will serve, whether the gods your fathers served in the region beyond the River, or the gods of the Amorites in whose land you dwell. But as for me and my house, we will serve the LORD."
riley-clemmons

2354 views

2020-05-26T13:56:09

source: Riley Clemmons Contemporary Christian artist Riley Clemmons and country star Lauren Alaina come together for a worship-filled performance of 'Over And Over.'

These words are the perfect reminder that no matter the obstacles we face, God is always by our side.

"But somehow You choose me
Over and over again
Over and over again
You keep running to me
No matter where I am"

In 2017, Riley took the Christian music scene by storm with her single 'Broken Prayers.' The song rose to the top of the charts and, since that time, this inspiring singer has continued to use her voice to spread God's message.

Today, she's teaming up with one of the biggest names in country music, Lauren Alaina. Lauren got her start as the runner-up on the tenth season of American Idol but she quickly made a name for herself in the country world. Together, these two powerhouse vocalists are using their talents to praise the Name of our Lord with 'Over And Over.'

"Over and over again
I get lost I must confess
Oh, how quickly I forget
But You keep on showing me I'm loved
Over and over again"

What a blessing to hear these women lift up the Lord and spread His message of love and peace to the world.

Joshua 24:15 "And if it is evil in your eyes to serve the LORD, choose this day whom you will serve, whether the gods your fathers served in the region beyond the River, or the gods of the Amorites in whose land you dwell. But as for me and my house, we will serve the LORD."

Suggested For You
---
Related Videos
---
Today's Devotional
A Prayer for a Strong Marriage - Your Daily Prayer - August 9
Top Artists