'Holy Water' Acoustic Performance From We The Kingdom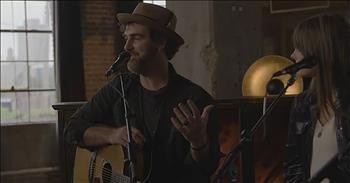 Talented Christian band We The Kingdom perform an acoustic rendition of their single 'Holy Water.'

These powerful lyrics reminds us all that God is with us each step of the way and He will never lead us astray.
"God, I'm on my knees again
God, I'm begging please again
I need You
Oh, I need You
Walking down these desert roads
Water for my thirsty soul
I need You"
This inspirational group is hoping to use their God-given musical talent to help spread His message throughout the world. And 'Holy Water' has an especially significant meaning for the band. When speaking about the song, they wrote on Facebook, "This song is about God being the Living Water that carries forgiveness and grace into our desert places."
God gives us every tool that we need to walk through life. And He will always be there to lean on.
"Your forgiveness
Is like sweet, sweet honey on my lips
Like the sound of a symphony to my ears
Like holy water on my skin"
This song is such a beautiful way to sing of His many blessings. Let us use these words as worship and praise for everyone to hear. Who else is singing along with We the Kingdom?
Philippians 4:6-7 "Do not be anxious about anything, but in everything by prayer and supplication with thanksgiving let your requests be made known to God. And the peace of God, which surpasses all understanding, will guard your hearts and your minds in Christ Jesus."
GodTube-Music

1189 views

2020-01-10T14:13:53

source: Worship Together Talented Christian band We The Kingdom perform an acoustic rendition of their single 'Holy Water.'
These powerful lyrics reminds us all that God is with us each step of the way and He will never lead us astray.

"God, I'm on my knees again
God, I'm begging please again
I need You
Oh, I need You
Walking down these desert roads
Water for my thirsty soul
I need You"

This inspirational group is hoping to use their God-given musical talent to help spread His message throughout the world. And 'Holy Water' has an especially significant meaning for the band. When speaking about the song, they wrote on Facebook, "This song is about God being the Living Water that carries forgiveness and grace into our desert places."

God gives us every tool that we need to walk through life. And He will always be there to lean on.

"Your forgiveness
Is like sweet, sweet honey on my lips
Like the sound of a symphony to my ears
Like holy water on my skin"

This song is such a beautiful way to sing of His many blessings. Let us use these words as worship and praise for everyone to hear. Who else is singing along with We the Kingdom?

Philippians 4:6-7 "Do not be anxious about anything, but in everything by prayer and supplication with thanksgiving let your requests be made known to God. And the peace of God, which surpasses all understanding, will guard your hearts and your minds in Christ Jesus."

Today's Devotional
A Prayer for When You Don't Feel Like Praising God - Your Daily Prayer - May 27
Top Artists