'Another In The Fire' Hillsong UNITED Official Music Video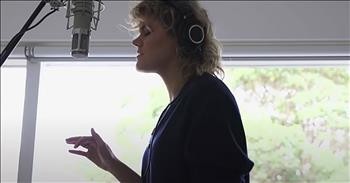 Hillsong UNITED leads us in worship with their powerful single 'Another In The Fire.' These words remind us all that we are never alone because we have the strength of the Lord by our side.

"There is another in the fire
Standing next to me
There is another in the waters
Holding back the seas
And should I ever need reminding
What power set me free
There is a grave that holds no body
And now that power lives in me."
Hillsong UNITED is arguably one of the most popular Christian groups of the modern era. Many of their inspirational ballads of worship are now staple songs in church services across the world. Now, this Australian-based band is blessing us with another beautiful worship song that gives all the glory to our Lord.
Today, they are sharing the official music video for 'Another In The Fire.' As the world faces the COVID-19 pandemic, many people are grappling with feelings of fear and anxiety. These special lyrics remind us all that there is nothing to fear because God is in control.
He will shoulder our burdens and lead us through the darkness into His loving arms. What an incredible song to give praise to His Name.
Romans 8:38-39 "For I am sure that neither death nor life, nor angels nor rulers, nor things present nor things to come, nor powers, nor height nor depth, nor anything else in all creation, will be able to separate us from the love of God in Christ Jesus our Lord."
hillsong-united

2110 views

2020-05-13T14:21:24

source: Hillsong United Hillsong UNITED leads us in worship with their powerful single 'Another In The Fire.' These words remind us all that we are never alone because we have the strength of the Lord by our side.

"There is another in the fire
Standing next to me
There is another in the waters
Holding back the seas

And should I ever need reminding
What power set me free
There is a grave that holds no body
And now that power lives in me."

Hillsong UNITED is arguably one of the most popular Christian groups of the modern era. Many of their inspirational ballads of worship are now staple songs in church services across the world. Now, this Australian-based band is blessing us with another beautiful worship song that gives all the glory to our Lord.

Today, they are sharing the official music video for 'Another In The Fire.' As the world faces the COVID-19 pandemic, many people are grappling with feelings of fear and anxiety. These special lyrics remind us all that there is nothing to fear because God is in control.

He will shoulder our burdens and lead us through the darkness into His loving arms. What an incredible song to give praise to His Name.

Romans 8:38-39 "For I am sure that neither death nor life, nor angels nor rulers, nor things present nor things to come, nor powers, nor height nor depth, nor anything else in all creation, will be able to separate us from the love of God in Christ Jesus our Lord."

Today's Devotional
A Prayer for the Filling of God's Power and Love - Your Daily Prayer - August 4
Top Artists