'What If' Classic Reba McEntire Song Takes On New Meaning During Pandemic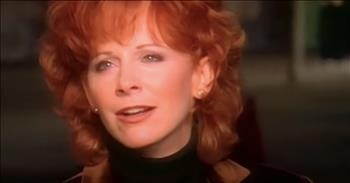 Country superstar Reba McEntire re-releases her hit song 'What If' in light of the COVID-19 pandemic. Originally released 23 years ago, the powerful words of this song still ring true today.

"Sometimes I don't understand
Feels like I'm living in a world gone mad
Look around, all around it's just the same
People just rush everywhere"
As the world grapples with the effects of the coronavirus, there are many feelings of fear and anxiety. Even when we may feel helpless or lost, we can always show kindness to one another. And that is exactly what the lyrics of 'What If' portray.
When Reba decided to release a brand new music video for the song, featuring essential workers, she felt the weight of the words.
On Instagram, she said, "Even though we may not be able to physically reach out with just one hand right now, we can still be there for each other and take care of our neighbors, essential workers and medical professionals. Re-releasing this song and updated video with its message of care, hope and love felt like the right thing to do. Maybe we still can change things."
"What if everybody, what if everybody reached out with just one hand?
(Reached with just one hand)
What if everybody, what if everybody sang out with just one voice?
(Sang with just one voice)
Maybe we could change things"
As we walk through these unprecedented times together, let us remember to be kind and always love one another.
Ephesians 4:32 "Be kind to one another, tenderhearted, forgiving one another, as God in Christ forgave you."
reba-mcentire

10808 views

2020-05-11T12:53:57

source: Reba McEntire Country superstar Reba McEntire re-releases her hit song 'What If' in light of the COVID-19 pandemic. Originally released 23 years ago, the powerful words of this song still ring true today.

"Sometimes I don't understand
Feels like I'm living in a world gone mad
Look around, all around it's just the same
People just rush everywhere"

As the world grapples with the effects of the coronavirus, there are many feelings of fear and anxiety. Even when we may feel helpless or lost, we can always show kindness to one another. And that is exactly what the lyrics of 'What If' portray.

When Reba decided to release a brand new music video for the song, featuring essential workers, she felt the weight of the words.

On Instagram, she said, "Even though we may not be able to physically reach out with just one hand right now, we can still be there for each other and take care of our neighbors, essential workers and medical professionals. Re-releasing this song and updated video with its message of care, hope and love felt like the right thing to do. Maybe we still can change things."

"What if everybody, what if everybody reached out with just one hand?
(Reached with just one hand)
What if everybody, what if everybody sang out with just one voice?
(Sang with just one voice)
Maybe we could change things"

As we walk through these unprecedented times together, let us remember to be kind and always love one another.

Ephesians 4:32 "Be kind to one another, tenderhearted, forgiving one another, as God in Christ forgave you."

Suggested For You
---
Related Videos
---
Today's Devotional
A Prayer for Direction - Your Daily Prayer - August 10
Top Artists