Today's Devotional
A Prayer to Soothe an Anxious Heart - Your Daily Prayer - May 22, 2018The answer to anxieties is to go to God as soon as you sense a worry.
Top Artists
'99 Balloons' - Dad Writes Powerful Love Letter To His Lost Baby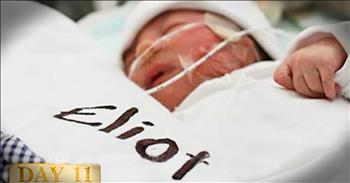 Things happen that we cannot explain with our earthly minds, but God works in the most amazing ways. The story of Elliot, a miracle baby that lived for 99 days, shows this. You don't want to miss this moving video.

Eliot's condition could not stop the living God from proclaiming Himself through this boy who never uttered a word.
Buy Now:
http://www.ignitermedia.com/mini-movies/570/99-Balloons
Buy Now

ignitermedia

440443 views

2008-03-17T00:00:00

Things happen that we cannot explain with our earthly minds, but God works in the most amazing ways. The story of Elliot, a miracle baby that lived for 99 days, shows this. You don't want to miss this moving video.

Eliot's condition could not stop the living God from proclaiming Himself through this boy who never uttered a word.
Buy Now: http://www.ignitermedia.com/mini-movies/570/99-Balloons