'Alpha And Omega' Classic Gaither Vocal Band Performance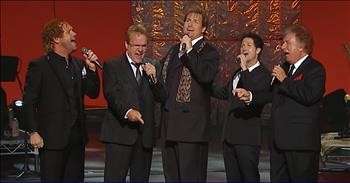 The Gaither Vocal Band shares a beautiful rendition of their classic song 'Alpha And Omega.' This live performance truly reminds us that God is the Master of the universe. His love and power reigns over us all.

"He is the Alpha and Omega
The Beginning and the End
The Son of God, King of Kings
Lord of Lords, He's everything
Messiah, Jehovah, The Prince of Peace, is He
Son of Man, Seed of Abraham
Second Person in the Trinity."
The Gaither Vocal Band is a popular all-male southern ensemble that has been sharing the Gospel through music for decades. The band name comes from the founder and leader, Bill Gaither, who is best known for writing countless hymns and worship favorites.
Since 1981, this group has performed hundreds of beloved worship tunes and beautiful original songs all over the world. Altogether, The Gaither Vocal Band has released 29 albums.
Today, they're sharing a clip from their 2009 performance of 'Alpha And Omega' at the Majestic Theater in Texas. Just listen as they these stunning words of praise.
"He shall wipe away all tears from their eyes
There shall be no more death
Neither sorrow nor crying, and no more pain
The former things have all past away"
One day, all our pain will be erased and we will be reunited in Heaven. What a glorious day that will be!
Revelation 1:8 "I am the Alpha and the Omega," says the Lord God, "who is and who was and who is to come, the Almighty."
Buy Now

Embed

gaither-vocal-band

14472 views

2012-08-30T16:50:00

The Gaither Vocal Band shares a beautiful rendition of their classic song 'Alpha And Omega.' This live performance truly reminds us that God is the Master of the universe. His love and power reigns over us all.

"He is the Alpha and Omega
The Beginning and the End
The Son of God, King of Kings
Lord of Lords, He's everything
Messiah, Jehovah, The Prince of Peace, is He
Son of Man, Seed of Abraham
Second Person in the Trinity."

The Gaither Vocal Band is a popular all-male southern ensemble that has been sharing the Gospel through music for decades. The band name comes from the founder and leader, Bill Gaither, who is best known for writing countless hymns and worship favorites.

Since 1981, this group has performed hundreds of beloved worship tunes and beautiful original songs all over the world. Altogether, The Gaither Vocal Band has released 29 albums.

Today, they're sharing a clip from their 2009 performance of 'Alpha And Omega' at the Majestic Theater in Texas. Just listen as they these stunning words of praise.

"He shall wipe away all tears from their eyes
There shall be no more death
Neither sorrow nor crying, and no more pain
The former things have all past away"

One day, all our pain will be erased and we will be reunited in Heaven. What a glorious day that will be!

Revelation 1:8 "I am the Alpha and the Omega," says the Lord God, "who is and who was and who is to come, the Almighty."

Today's Devotional
A Prayer from Psalm 91 - Your Daily Prayer - January 26
Top Artists