Husband And Wife Sing 'Silent Night'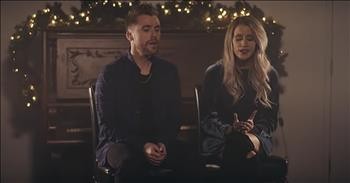 Husband and wife Caleb and Kelsey Grimm come together for a beautiful rendition of 'Silent Night.'

This beloved hymn is always a favorite this time of year. The powerful words remind us of the true miracle of Jesus' birth.
"Silent night, holy night
All is calm, all is bright
Round yon Virgin, Mother, Mother and Child
Holy infant so tender and mild
Sleep in heavenly peace
Sleep in heavenly"
Caleb + Kelsey are a popular singing duo who became viral sensations with covers such as 'Oceans (Where Feet May Fail)' and '10,000 Reasons (Bless The Lord).' Time and time again, these two use their God-given talents to sing praises to His Name.
Today, they're ringing in the Christmas season with this very special rendition of 'Silent Night.' This classic song is performed in churches all around the world but there is something so unique about watching this husband and wife sit together and sing the words out loud. It truly adds to much weight to every single word.
"Silent night, holy night!
Shepherds quake at the sight
Glories stream from heaven afar
Heavenly hosts sing 'Alleluia!
Christ the Savior is born
Christ the Savior is born"
What a blessing we were given on that miraculous night in Bethlehem. Who else is saying amen?
Luke 2:15 "And it came to pass, as the angels were gone away from them into heaven, the shepherds said one to another, Let us now go even unto Bethlehem, and see this thing which is come to pass, which the Lord hath made known unto us."
anthem-lights

952 views

2019-12-10T12:19:59

source: Anthem Lights Husband and wife Caleb and Kelsey Grimm come together for a beautiful rendition of 'Silent Night.'

This beloved hymn is always a favorite this time of year. The powerful words remind us of the true miracle of Jesus' birth.

"Silent night, holy night
All is calm, all is bright
Round yon Virgin, Mother, Mother and Child
Holy infant so tender and mild
Sleep in heavenly peace
Sleep in heavenly"

Caleb + Kelsey are a popular singing duo who became viral sensations with covers such as 'Oceans (Where Feet May Fail)' and '10,000 Reasons (Bless The Lord).' Time and time again, these two use their God-given talents to sing praises to His Name.

Today, they're ringing in the Christmas season with this very special rendition of 'Silent Night.' This classic song is performed in churches all around the world but there is something so unique about watching this husband and wife sit together and sing the words out loud. It truly adds to much weight to every single word.

"Silent night, holy night!
Shepherds quake at the sight
Glories stream from heaven afar
Heavenly hosts sing 'Alleluia!
Christ the Savior is born
Christ the Savior is born"

What a blessing we were given on that miraculous night in Bethlehem. Who else is saying amen?

Luke 2:15 "And it came to pass, as the angels were gone away from them into heaven, the shepherds said one to another, Let us now go even unto Bethlehem, and see this thing which is come to pass, which the Lord hath made known unto us."

Suggested For You
---
Related Videos
---
Today's Devotional
A Prayer for God's Presence - Your Daily Prayer - May 28
Top Artists