9-Month-Old Has Hilarious Reaction To Trying Ice Cream For The First Time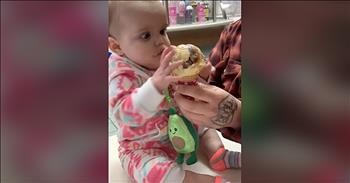 This little baby is winning hearts all over the Internet when she tries ice cream for the first time.

I think we can all agree that children are one of the best gifts that God ever gave us. There is nothing sweeter than watching children interact with the world around them.
Kids have the ability to see the world through a completely different set of eyes than adults. They are full of innocence and wonder. And when they are young, every experience is completely new.
This toddler is having her own memorable experience and it's absolutely adorable. 9-month-old Blakely Jernigan had no clue that she was in for an incredible surprise when her parents took her to Baskin-Robbins.
The viral video shows Blakely take her first bite of ice cream and then dive in for a lot more. In fact, she grabs the whole waffle cone and refuses to let anyone take it away from her. It's clearly love at first bite for this sweet girl and we're all loving every second of it.
Now, her hilarious moment is being shared all across social media and I think we all feel a little bit like Blakely on the inside!
Psalm 127:3-5 "Behold, children are a heritage from the LORD, the fruit of the womb a reward. Like arrows in the hand of a warrior are the children of one's youth. Blessed is the man who fills his quiver with them! He shall not be put to shame when he speaks with his enemies in the gate."
godtube-inspiration

11053 views

2020-01-30T12:25:12

source: FOX 4 News This little baby is winning hearts all over the Internet when she tries ice cream for the first time.

I think we can all agree that children are one of the best gifts that God ever gave us. There is nothing sweeter than watching children interact with the world around them.

Kids have the ability to see the world through a completely different set of eyes than adults. They are full of innocence and wonder. And when they are young, every experience is completely new.

This toddler is having her own memorable experience and it's absolutely adorable. 9-month-old Blakely Jernigan had no clue that she was in for an incredible surprise when her parents took her to Baskin-Robbins.

The viral video shows Blakely take her first bite of ice cream and then dive in for a lot more. In fact, she grabs the whole waffle cone and refuses to let anyone take it away from her. It's clearly love at first bite for this sweet girl and we're all loving every second of it.

Now, her hilarious moment is being shared all across social media and I think we all feel a little bit like Blakely on the inside!

Psalm 127:3-5 "Behold, children are a heritage from the LORD, the fruit of the womb a reward. Like arrows in the hand of a warrior are the children of one's youth. Blessed is the man who fills his quiver with them! He shall not be put to shame when he speaks with his enemies in the gate."

Today's Devotional
A Prayer for Strength to Endure - Your Daily Prayer - May 29
Top Artists