Super Polite Toddler Loves His Mama's Cooking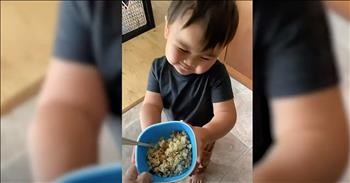 This polite toddler is capturing hearts all over the world after his manners for Mama's cooking goes viral.

We can all agree that children are truly a gift from God. Each and every one of these little angels were placed in our lives for a reason and it's absolutely amazing to watch them journey from infants into encouraging adults.
Children are full of wonder, excitement and innocence. Time and time again, their kind-hearted nature leaves us speechless. And that's exactly what is happening with this precious toddler during mealtime.
2-year-old Grey may be young, but he's already working on his manners. His parents have tried hard to make sure that he is thankful and polite and their work has definitely paid off.
Just watch this sweet compilation of Grey saying 'thank you' every single time he is served a meal. It is so sweet to watch him appreciate his food and the whole world seems to think so too.
After posting the video online, Grey quickly went viral. His mom told Caters News, "I think it's wonderful, especially given the fact that we have been adamant about making sure he has manners. It's great to see it become a norm for him."
Psalm 127:3-5 "3 Children are a heritage from the LORD, offspring a reward from him. 4 Like arrows in the hands of a warrior are children born in one's youth. 5 Blessed is the man whose quiver is full of them. They will not be put to shame when they contend with their opponents in court."
kidsarecute

7354 views

2020-06-25T14:53:58

source: Caters Clips This polite toddler is capturing hearts all over the world after his manners for Mama's cooking goes viral.

We can all agree that children are truly a gift from God. Each and every one of these little angels were placed in our lives for a reason and it's absolutely amazing to watch them journey from infants into encouraging adults.

Children are full of wonder, excitement and innocence. Time and time again, their kind-hearted nature leaves us speechless. And that's exactly what is happening with this precious toddler during mealtime.

2-year-old Grey may be young, but he's already working on his manners. His parents have tried hard to make sure that he is thankful and polite and their work has definitely paid off.

Just watch this sweet compilation of Grey saying 'thank you' every single time he is served a meal. It is so sweet to watch him appreciate his food and the whole world seems to think so too.

After posting the video online, Grey quickly went viral. His mom told Caters News, "I think it's wonderful, especially given the fact that we have been adamant about making sure he has manners. It's great to see it become a norm for him."

Psalm 127:3-5 "3 Children are a heritage from the LORD, offspring a reward from him. 4 Like arrows in the hands of a warrior are children born in one's youth. 5 Blessed is the man whose quiver is full of them. They will not be put to shame when they contend with their opponents in court."

Today's Devotional
A Prayer of Praise for Worn Out Bibles - Your Daily Prayer - September 19I live in this book, with this book, and by this book. Like our verse in Hebrews says, God's word to me is "alive and active."
Top Artists