'Your Joy, My Strength' Travis Cottrell Featuring Mandisa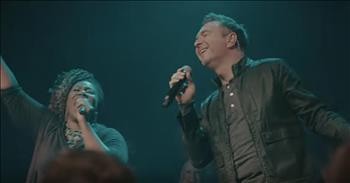 Contemporary Christian artists Travis Cottrell and Mandisa come together for an incredible performance of 'Your Joy, My Strength.' These powerful words remind us all that we find our strength and comfort in the arms of the Lord.

"When life is crashing down and
I've got nothing to spare
When storms are lashing out
I know that You are there
Your hand is always steady
Your love is always ready
Waiting for me to turn around"
Mandisa started out as a contestant on American Idol's fifth season and instantly won over the hearts of America. With singles such as 'Overcomer' and 'Stronger' she earned a name for herself as a powerhouse Christian voice. She even won a Grammy for her Overcomer album. Travis Cottrell is a popular worship leader who has over 20 years in the industry.
Today, they're leading us in worship with a live rendition of 'Your Joy, My Strength.'
"Your joy, my strength
My hope won't break
For all my days
I'll make Your joy my strength"
We are so blessed to serve such a loving and gracious Father in Heaven. Hand Him your burdens and let God be your strength to carry on.
2 Corinthians 12:9-10 "But he said to me, "My grace is sufficient for you, for my power is made perfect in weakness." Therefore I will boast all the more gladly of my weaknesses, so that the power of Christ may rest upon me. For the sake of Christ, then, I am content with weaknesses, insults, hardships, persecutions, and calamities. For when I am weak, then I am strong."
travis-cottrell

2800 views

2020-03-09T15:32:56

source: Travis Cottrell Contemporary Christian artists Travis Cottrell and Mandisa come together for an incredible performance of 'Your Joy, My Strength.' These powerful words remind us all that we find our strength and comfort in the arms of the Lord.

"When life is crashing down and
I've got nothing to spare
When storms are lashing out
I know that You are there
Your hand is always steady
Your love is always ready
Waiting for me to turn around"

Mandisa started out as a contestant on American Idol's fifth season and instantly won over the hearts of America. With singles such as 'Overcomer' and 'Stronger' she earned a name for herself as a powerhouse Christian voice. She even won a Grammy for her Overcomer album. Travis Cottrell is a popular worship leader who has over 20 years in the industry.

Today, they're leading us in worship with a live rendition of 'Your Joy, My Strength.'

"Your joy, my strength
My hope won't break
For all my days
I'll make Your joy my strength"

We are so blessed to serve such a loving and gracious Father in Heaven. Hand Him your burdens and let God be your strength to carry on.

2 Corinthians 12:9-10 "But he said to me, "My grace is sufficient for you, for my power is made perfect in weakness." Therefore I will boast all the more gladly of my weaknesses, so that the power of Christ may rest upon me. For the sake of Christ, then, I am content with weaknesses, insults, hardships, persecutions, and calamities. For when I am weak, then I am strong."

Today's Devotional
A Prayer for a Strong Marriage - Your Daily Prayer - August 9
Top Artists