'Jesus' Blood' Live Performance From Travis Cottrell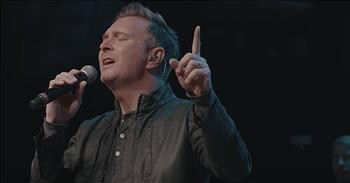 Contemporary Christian artist Travis Cottrell leads us in worship with 'Jesus' Blood.'

The death of Jesus Christ washed away our sins and freed us of our chains. And that is a reason to sing praises to His Name.
"Jesus' blood has ransomed me
Has raised me up and washed me clean
Oh the cross of Christ has the victory
For Jesus' blood has set me free"
Travis has been leading us in worship for decades. For nearly 20 years, Travis has served as the worship leader for Beth Moore and her various conferences all across the nation. This has given Travis the unique opportunity to minister for thousands of hearts through music.
Today, he's reminding us all of the incredible love for the Father with 'Jesus' Blood.'
"No prison of shame can rise up
Against His power
When He says I'm free, I'm free
And I'm free forever
The things I've done
Are gone with yesterday
One pardon will prevail"
With the Lord by our side, there is truly no obstacle too big to face. He gives us strength and courage to face each and every day and these words are the perfect way to give thanks to our Lord.
Revelation 1:5-6 "And from Jesus Christ the faithful witness, the firstborn of the dead, and the ruler of kings on earth. To him who loves us and has freed us from our sins by his blood and made us a kingdom, priests to his God and Father, to him be glory and dominion forever and ever. Amen."
travis-cottrell

2172 views

2020-03-03T15:44:02

source: Travis Cottrell Contemporary Christian artist Travis Cottrell leads us in worship with 'Jesus' Blood.'

The death of Jesus Christ washed away our sins and freed us of our chains. And that is a reason to sing praises to His Name.

"Jesus' blood has ransomed me
Has raised me up and washed me clean
Oh the cross of Christ has the victory
For Jesus' blood has set me free"

Travis has been leading us in worship for decades. For nearly 20 years, Travis has served as the worship leader for Beth Moore and her various conferences all across the nation. This has given Travis the unique opportunity to minister for thousands of hearts through music.

Today, he's reminding us all of the incredible love for the Father with 'Jesus' Blood.'

"No prison of shame can rise up
Against His power
When He says I'm free, I'm free
And I'm free forever
The things I've done
Are gone with yesterday
One pardon will prevail"

With the Lord by our side, there is truly no obstacle too big to face. He gives us strength and courage to face each and every day and these words are the perfect way to give thanks to our Lord.

Revelation 1:5-6 "And from Jesus Christ the faithful witness, the firstborn of the dead, and the ruler of kings on earth. To him who loves us and has freed us from our sins by his blood and made us a kingdom, priests to his God and Father, to him be glory and dominion forever and ever. Amen."

Today's Devotional
A Prayer for a Strong Marriage - Your Daily Prayer - August 9
Top Artists