'Wild River' Phil Wickham Acoustic Performance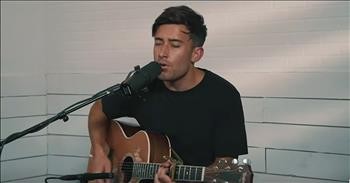 Christian artist Phil Wickham performs an acoustic rendition of 'Wild River' at New Song Café.

Today, we hear these beautiful lyrics and learn the story behind the song.
"Your mercy flows like a wild, wild river
Your love is strong like the raging sea
God, all Your goodness goes beyond all measure
Your grace like a flood pouring out of me"
'Wild River' was originally released on Phil's 2018 'Living Hope' album. Now, he's performing the powerful worship tune at New Song Café and also teaching others how to play it at home. This is an incredible opportunity to share this Christian song yourself.
"You call me out to walk with You on the sea
Even in my doubt, deep calls to deep
You never stop moving
You never stop moving"
There's truly nothing that can compare to the love we receive from our Father. He stands beside us and carries us along each step of the way. These poignant lyrics remind the world that God's mercy reigns down on us all.
We are forever loved and our sins have been washed clean because of His grace. That is such a beautiful blessing and this song is an amazing way to sing praises to His name. Who else is singing along to this Phil Wickham song?
1 Peter 1:3 "Praise be to the God and Father of our Lord Jesus Christ! In his great mercy he has given us new birth into a living hope through the resurrection of Jesus Christ from the dead."
phil-wickham

2304 views

2019-04-02T10:57:15

source: Worship Together Christian artist Phil Wickham performs an acoustic rendition of 'Wild River' at New Song Café.

Today, we hear these beautiful lyrics and learn the story behind the song.

"Your mercy flows like a wild, wild river
Your love is strong like the raging sea
God, all Your goodness goes beyond all measure
Your grace like a flood pouring out of me"

'Wild River' was originally released on Phil's 2018 'Living Hope' album. Now, he's performing the powerful worship tune at New Song Café and also teaching others how to play it at home. This is an incredible opportunity to share this Christian song yourself.

"You call me out to walk with You on the sea
Even in my doubt, deep calls to deep
You never stop moving
You never stop moving"

There's truly nothing that can compare to the love we receive from our Father. He stands beside us and carries us along each step of the way. These poignant lyrics remind the world that God's mercy reigns down on us all.

We are forever loved and our sins have been washed clean because of His grace. That is such a beautiful blessing and this song is an amazing way to sing praises to His name. Who else is singing along to this Phil Wickham song?

1 Peter 1:3 "Praise be to the God and Father of our Lord Jesus Christ! In his great mercy he has given us new birth into a living hope through the resurrection of Jesus Christ from the dead."
Today's Devotional
A Prayer for Intentional Marriage - Your Daily Prayer - October 14
Top Artists