Father And Daughter Share Final Duet To 'Will The Circle Be Unbroken'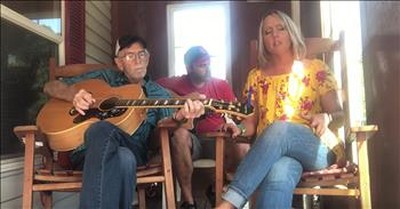 A touching moment is captured on camera as this father and daughter share a final duet together to 'Will The Circle Be Unbroken?'

Angie Sutherland and her father, Edgar Napier, became viral sensations after she posted a video of the two singing 'Lord, I Wanna Go To Heaven.' Edgar was battling stage four cancer and one of his favorite pastimes was to sit on the porch in his rocking chair and play the guitar.
Angie would sing along and they would create the most beautiful sounds. Sadly, Edgar lost his fight on August 25, 2019. This porch performance of 'Will The Circle Be Unbroken' is the last released video of the two. Just listen as they are play this iconic song while brother Clinton also joins on guitar.
"I said to the undertaker
Undertaker please drive slow
For this lady you are carrying
Lord I hate to see her go
Will the circle be unbroken
By and by, lord, by and by
There's a better home a-waiting
In the sky, lord, in the sky"
Even though his time on Earth may be through, Edgar's music ministry will continue through his daughter's voice. Many people all over the world have been touched by these beautiful duets and their ears have been opened to the words of the Lord.
Angie said it perfectly when she wrote on Facebook, "Save me a rocking chair next to you on your front porch up in Heaven daddy. I'll be looking for you sitting there with your guitar, where we will sing forever for Jesus."
godtube-inspiration

8610 views

2019-08-26T12:42:24

source: Angie Sutherland A touching moment is captured on camera as this father and daughter share a final duet together to 'Will The Circle Be Unbroken?'

Angie Sutherland and her father, Edgar Napier, became viral sensations after she posted a video of the two singing 'Lord, I Wanna Go To Heaven.' Edgar was battling stage four cancer and one of his favorite pastimes was to sit on the porch in his rocking chair and play the guitar.

Angie would sing along and they would create the most beautiful sounds. Sadly, Edgar lost his fight on August 25, 2019. This porch performance of 'Will The Circle Be Unbroken' is the last released video of the two. Just listen as they are play this iconic song while brother Clinton also joins on guitar.

"I said to the undertaker
Undertaker please drive slow
For this lady you are carrying
Lord I hate to see her go
Will the circle be unbroken
By and by, lord, by and by
There's a better home a-waiting
In the sky, lord, in the sky"

Even though his time on Earth may be through, Edgar's music ministry will continue through his daughter's voice. Many people all over the world have been touched by these beautiful duets and their ears have been opened to the words of the Lord.

Angie said it perfectly when she wrote on Facebook, "Save me a rocking chair next to you on your front porch up in Heaven daddy. I'll be looking for you sitting there with your guitar, where we will sing forever for Jesus."

Today's Devotional
A Prayer for Joy - Your Daily Prayer - August 13
So how can we stay in the joy of the Lord all day long, regardless of our circumstances? Here are a few things that we can be intentional about:
Top Artists
Top Music Videos