'We Turn Our Eyes' Travis Cottrell Performance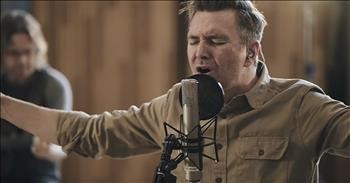 Contemporary Christian artist Travis Cottrell performs an acoustic rendition of 'We Turn Our Eyes' at the New Song Café. These beautiful lyrics remind us that when we focus on God, He will guide us to the path of righteousness.

"We turn our eyes
We turn our eyes
See the darkness bow to light
And we will rise
And we will rise
Love has overcome the night"
Travis is a talented worship leader and solo artist who truly has a heart for the Lord. Today, we hear this powerful acoustic performance along with the story behind the song.
You can even learn how to play this worship song at home, on your own. Hearing the inspiration behind 'We Turn Our Eyes' truly makes the words so much more impactful.
"Turn your eyes upon Jesus
Look full in His wonderful face
And the things of earth will grow strangely dim
In the light of His glory and grace"
There is truly power in the name of Jesus and He is greater than we can ever imagine. What a blessing to serve such a loving and caring Father. Amen!
"1 Therefore, since we are surrounded by such a great cloud of witnesses, let us throw off everything that hinders and the sin that so easily entangles. And let us run with perseverance the race marked out for us, 2 fixing our eyes on Jesus, the pioneer and perfecter of faith. For the joy set before him he endured the cross, scorning its shame, and sat down at the right hand of the throne of God"
travis-cottrell

197 views

2019-08-21T11:42:09

source: Travis Cottrell Contemporary Christian artist Travis Cottrell performs an acoustic rendition of 'We Turn Our Eyes' at the New Song Café. These beautiful lyrics remind us that when we focus on God, He will guide us to the path of righteousness.

"We turn our eyes
We turn our eyes
See the darkness bow to light
And we will rise
And we will rise
Love has overcome the night"

Travis is a talented worship leader and solo artist who truly has a heart for the Lord. Today, we hear this powerful acoustic performance along with the story behind the song.

You can even learn how to play this worship song at home, on your own. Hearing the inspiration behind 'We Turn Our Eyes' truly makes the words so much more impactful.

"Turn your eyes upon Jesus
Look full in His wonderful face
And the things of earth will grow strangely dim
In the light of His glory and grace"

There is truly power in the name of Jesus and He is greater than we can ever imagine. What a blessing to serve such a loving and caring Father. Amen!

"1 Therefore, since we are surrounded by such a great cloud of witnesses, let us throw off everything that hinders and the sin that so easily entangles. And let us run with perseverance the race marked out for us, 2 fixing our eyes on Jesus, the pioneer and perfecter of faith. For the joy set before him he endured the cross, scorning its shame, and sat down at the right hand of the throne of God"

Today's Devotional
A Prayer for Moms Who Struggle with Their Temper - Your Daily Prayer - February 25
Top Artists