Country Artist Randy Travis Overcomes Daily Struggles After 2013 Stoke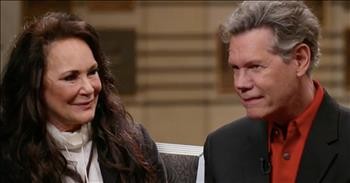 Country legend Randy Travis shares the daily struggles he is faced with after a 2013 stroke.

Randy Travis broke onto the music scene in the 1980s. His deep and distinctive voice gave us hits such as 'Forever And Ever, Amen' and 'Three Wooden Crosses.' But everything came to a screeching halt nearly six years ago.
Randy almost lost his life after suffering from a devastating stroke that left in a coma for 72 hours. Even though he couldn't communicate, Randy could hear and understand everything that was going on around him. He even heard when the doctor's advised his family that recovery was slim and they should consider pulling the plug. That's when Randy's soon-to-be wife, Mary, stood by his side and asked for a sign.
Randy was able to squeeze her hand and she knew that he would continue to battle no matter what. "Even in his state, his semi-coma state, he squeezed my hand… I just I saw this tear just fell. And it was, you know, one, two at a time. And I just went back to the doctors and I said, 'We're fighting this.'''
It was over a year before Randy would regain the ability to speak and walk without a cane. Today, Randy still struggles just to take a step and his vocal ability is limited. But that's not stopping this country superstar from sharing his story in hopes that others will find inspiration in his words.
Randy's wife ends the interview by saying, "What I've learned about him is that he hadn't forgotten anything, but the world will never forget him either."
GodTube-Music

2525 views

2019-05-15T12:19:00

source: WRCBtv Country legend Randy Travis shares the daily struggles he is faced with after a 2013 stroke.

Randy Travis broke onto the music scene in the 1980s. His deep and distinctive voice gave us hits such as 'Forever And Ever, Amen' and 'Three Wooden Crosses.' But everything came to a screeching halt nearly six years ago.

Randy almost lost his life after suffering from a devastating stroke that left in a coma for 72 hours. Even though he couldn't communicate, Randy could hear and understand everything that was going on around him. He even heard when the doctor's advised his family that recovery was slim and they should consider pulling the plug. That's when Randy's soon-to-be wife, Mary, stood by his side and asked for a sign.

Randy was able to squeeze her hand and she knew that he would continue to battle no matter what. "Even in his state, his semi-coma state, he squeezed my hand… I just I saw this tear just fell. And it was, you know, one, two at a time. And I just went back to the doctors and I said, 'We're fighting this.'''

It was over a year before Randy would regain the ability to speak and walk without a cane. Today, Randy still struggles just to take a step and his vocal ability is limited. But that's not stopping this country superstar from sharing his story in hopes that others will find inspiration in his words.

Randy's wife ends the interview by saying, "What I've learned about him is that he hadn't forgotten anything, but the world will never forget him either."
Today's Devotional
A Prayer for Fulfillment - Your Daily Prayer - July 17
Top Artists