Woman Cries After Hearing Her Late Mom's Voice In A Teddy Bear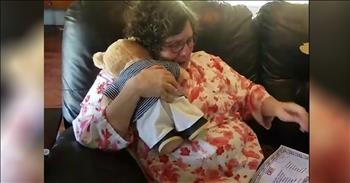 This woman just broke down in tears after hearing her late mom's voice in a teddy bear.

It is never easy to lose a loved one. Even though we know that they are in a better place, there is still an ache in our heart while we remain on Earth. Grace has been missing her mother, who sadly passed away.
For Mother's Day, Grace's children decided to give her an amazing present so that she could remember some of the amazing things about her late mother. The grandchildren went to the local Build-A-Bear Workshop and had a custom teddy bear made just for Grace.
They pieced together voicemail messages to create a new and special message just for Grace from her mother. These thoughtful children even had a friend use some of their grandmother's clothing to create an outfit for the teddy bear.
Just watch as Grace opens the box and hears the voice for the very first time. You can see the realization spread over her face. She's obviously overwhelmed with emotion and through the tears she exclaims, "Wow, it's excellent. It's the best thing ever."
Now, Grace can always carry a piece of her mother with her and be reminded that she is so loved. What a beautiful gift from these very caring and thoughtful children.
Revelation 21:4 "He will wipe away every tear from their eyes, and death shall be no more, neither shall there be mourning, nor crying, nor pain anymore, for the former things have passed away."
godtube-inspiration

704 views

2019-05-15T09:27:29

source: LightWorkers This woman just broke down in tears after hearing her late mom's voice in a teddy bear.

It is never easy to lose a loved one. Even though we know that they are in a better place, there is still an ache in our heart while we remain on Earth. Grace has been missing her mother, who sadly passed away.

For Mother's Day, Grace's children decided to give her an amazing present so that she could remember some of the amazing things about her late mother. The grandchildren went to the local Build-A-Bear Workshop and had a custom teddy bear made just for Grace.

They pieced together voicemail messages to create a new and special message just for Grace from her mother. These thoughtful children even had a friend use some of their grandmother's clothing to create an outfit for the teddy bear.

Just watch as Grace opens the box and hears the voice for the very first time. You can see the realization spread over her face. She's obviously overwhelmed with emotion and through the tears she exclaims, "Wow, it's excellent. It's the best thing ever."

Now, Grace can always carry a piece of her mother with her and be reminded that she is so loved. What a beautiful gift from these very caring and thoughtful children.

Revelation 21:4 "He will wipe away every tear from their eyes, and death shall be no more, neither shall there be mourning, nor crying, nor pain anymore, for the former things have passed away."

Today's Devotional
A Prayer for Rest from the Need to Prove Ourselves - Your Daily Prayer - October 22
Top Artists