Mark Lowry Sings 'The Old Rugged Cross'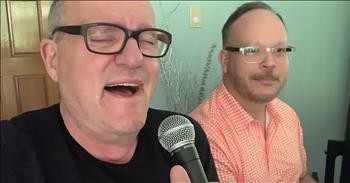 Christian singer and songwriter Mark Lowry performs a beautiful rendition of 'The Old Rugged Cross.' This classic hymn is a timeless favorite to so many and the lyrics still ring true today.

"On a hill far away stood an old rugged cross
The emblem of suffering and shame
And I love that old cross where the dearest and best
For a world of lost sinners was slain"
Mark is famous for penning the modern-day Christmas hit 'Mary, Did You Know?" He's been a staple in the Christian music scene for decades and he continues to use his talents to give praise to our Lord. 'The Old Rugged Cross' is one of those hymns that is a staple in every church service.
These special lyrics remind us all that God made the ultimate sacrifice for us when He sent His only Son down to Earth to die for our sins. That priceless gift paved the way for our path into Heaven. When we sing this song, remember the power of the Cross and our Savior, Jesus Christ.
"So I'll cherish the old rugged cross
Till my trophies at last I lay down
And I will cling to the old rugged cross
And exchange it some day for a crown"
1 Peter 2:24-25 "He himself bore our sins in his body on the tree, that we might die to sin and live to righteousness. By his wounds you have been healed. For you were straying like sheep, but have now returned to the Shepherd and Overseer of your souls."
mark-lowry

4147 views

2019-05-23T14:40:56

source: Mark Lowry Christian singer and songwriter Mark Lowry performs a beautiful rendition of 'The Old Rugged Cross.' This classic hymn is a timeless favorite to so many and the lyrics still ring true today.

"On a hill far away stood an old rugged cross
The emblem of suffering and shame
And I love that old cross where the dearest and best
For a world of lost sinners was slain"

Mark is famous for penning the modern-day Christmas hit 'Mary, Did You Know?" He's been a staple in the Christian music scene for decades and he continues to use his talents to give praise to our Lord. 'The Old Rugged Cross' is one of those hymns that is a staple in every church service.

These special lyrics remind us all that God made the ultimate sacrifice for us when He sent His only Son down to Earth to die for our sins. That priceless gift paved the way for our path into Heaven. When we sing this song, remember the power of the Cross and our Savior, Jesus Christ.

"So I'll cherish the old rugged cross
Till my trophies at last I lay down
And I will cling to the old rugged cross
And exchange it some day for a crown"

1 Peter 2:24-25 "He himself bore our sins in his body on the tree, that we might die to sin and live to righteousness. By his wounds you have been healed. For you were straying like sheep, but have now returned to the Shepherd and Overseer of your souls."

Today's Devotional
A Prayer for When Time Doesn't Heal a Broken Heart - Your Daily Prayer - July 2
Top Artists