'Consider The Lilies' ELENYI Featuring Emily Brown On Harp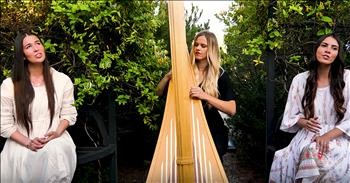 The talented sisters of ELENYI lift up the Lord's Name in praise with this beautiful rendition of 'Consider The Lilies.' This beloved hymn always touches a special in hearts around the world and this cover is no exception.

"Consider the lilies of the field,
How they grow, how they grow.
Consider the birds in the sky,
How they fly, how they fly."
Today, the incredible sisters of ELENYI are lending their voices to this iconic tune. Elenyi means 'ray of sunlight' in Greek, and these ladies definitely shine. This sweet family group hopes that by singing worship music, they can help uplift others. Emily Brown, who plays the harp, joins the duo.
The addition of this amazing instrument only adds to the power and impact of this hymn. Just listen as these talented women belt out these words of praise.
"He clothes the lilies of the field.
He feeds the birds in the sky.
And He will feed those who trust Him,
And guide them with His eye."
The lyrics of 'Consider The Lilies' remind us all that when we put our trust in the Lord, He will guide our hearts on the path to righteousness. These sisters are the perfect vocal duo to spread God's message of love and praise. Don't you agree?
Matthew 6:28-29 "So why do you worry about clothing? Consider the lilies of the field, how they grow: they neither toil nor spin; and yet I say to you that even Solomon in all his glory was not arrayed like one of these."
GodTube-Music

391 views

2019-10-08T10:42:35

source: ElenyiMusic The talented sisters of ELENYI lift up the Lord's Name in praise with this beautiful rendition of 'Consider The Lilies.' This beloved hymn always touches a special in hearts around the world and this cover is no exception.

"Consider the lilies of the field,
How they grow, how they grow.
Consider the birds in the sky,
How they fly, how they fly."

Today, the incredible sisters of ELENYI are lending their voices to this iconic tune. Elenyi means 'ray of sunlight' in Greek, and these ladies definitely shine. This sweet family group hopes that by singing worship music, they can help uplift others. Emily Brown, who plays the harp, joins the duo.

The addition of this amazing instrument only adds to the power and impact of this hymn. Just listen as these talented women belt out these words of praise.

"He clothes the lilies of the field.
He feeds the birds in the sky.
And He will feed those who trust Him,
And guide them with His eye."

The lyrics of 'Consider The Lilies' remind us all that when we put our trust in the Lord, He will guide our hearts on the path to righteousness. These sisters are the perfect vocal duo to spread God's message of love and praise. Don't you agree?

Matthew 6:28-29 "So why do you worry about clothing? Consider the lilies of the field, how they grow: they neither toil nor spin; and yet I say to you that even Solomon in all his glory was not arrayed like one of these."

Today's Devotional
A Prayer for Strength to Endure - Your Daily Prayer - May 29
Top Artists