Beachgoers Form Human Chain To Save Swimmer Trapped In Raging Currents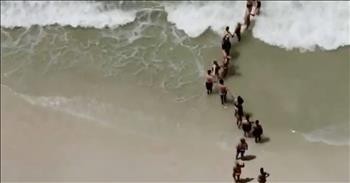 An incredible viral video captures the moment that Good Samaritans come together to form a human chain and rescue a struggling swimmer.

When summer arrives, many people will flock to beaches and the ocean. While this can be a relaxing and fun time, there are also dangers amongst those beautiful waves.
One unsuspecting swimmer found out those dangers all too well on a recent trip to Panama City Beach. It was a Sunday afternoon when beachgoers noticed someone struggling to swim in the water.
After being caught in a rip current, the swimmer was not able to escape. That is when these strangers banded together to form a human chain to reach the victim.
This video clip captures the moment that swimmer is retrieved and quickly brought to shore. From there, beach officials took over and aided the distressed individual with medical attention.
This incident could have turned out very differently if these Good Samaritans had not stepped in to help. It is moments like this that truly restore my faith in humanity.
Titus 3:4-7 "4 But when the kindness and love of God our Savior appeared, 5 he saved us, not because of righteous things we had done, but because of his mercy. He saved us through the washing of rebirth and renewal by the Holy Spirit, 6 whom he poured out on us generously through Jesus Christ our Savior, 7 so that, having been justified by his grace, we might become heirs having the hope of eternal life."
godtube-inspiration

1508 views

2019-07-18T14:04:00

source: TODAY An incredible viral video captures the moment that Good Samaritans come together to form a human chain and rescue a struggling swimmer.

When summer arrives, many people will flock to beaches and the ocean. While this can be a relaxing and fun time, there are also dangers amongst those beautiful waves.

One unsuspecting swimmer found out those dangers all too well on a recent trip to Panama City Beach. It was a Sunday afternoon when beachgoers noticed someone struggling to swim in the water.

After being caught in a rip current, the swimmer was not able to escape. That is when these strangers banded together to form a human chain to reach the victim.

This video clip captures the moment that swimmer is retrieved and quickly brought to shore. From there, beach officials took over and aided the distressed individual with medical attention.

This incident could have turned out very differently if these Good Samaritans had not stepped in to help. It is moments like this that truly restore my faith in humanity.

Titus 3:4-7 "4 But when the kindness and love of God our Savior appeared, 5 he saved us, not because of righteous things we had done, but because of his mercy. He saved us through the washing of rebirth and renewal by the Holy Spirit, 6 whom he poured out on us generously through Jesus Christ our Savior, 7 so that, having been justified by his grace, we might become heirs having the hope of eternal life."

Today's Devotional
A Prayer for Perspective - Your Daily Prayer - October 18
Top Artists