'Way Maker' Voices Of Lee A Cappella Performance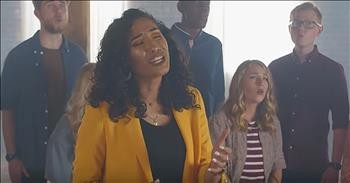 A cappella sensation, Voices Of Lee, perform a beautiful rendition of 'Way Maker.' This powerful song was originally recorded by Nigerian gospel singer, Sinach. Contemporary Christian artist Michael W. Smith also released a version of the song.

"Way maker
Miracle worker
Promise keeper
Light in the darkness
My God
That is who you are
Way maker"
Today, the Voices Of Lee are belting out these heartfelt lyrics for the entire world to hear. This a cappella group garnered worldwide attention with their cover of the Hillsong track, 'What A Beautiful Name.'
Since that time, they've continued to use their voices to lift up His Name in praise. You can truly feel their love and passion for the Lord as they sing the words of 'Way Maker.'
"You are here
Touching every heart
I worship you
I worship you"
This incredible a cappella performance reminds us of the glory and love from our Father in Heaven. Let us lift our voices in song and praise this Way Maker.
Isaiah 43: 16-19 "Thus says the LORD, who makes a way in the sea and a path through the mighty waters, 17 Who brings forth the chariot and horse, The army and the power (They shall lie down together, they shall not rise; They are extinguished, they are quenched like a wick): 18 "Do not remember the former things, Nor consider the things of old. 19 Behold, I will do a new thing, Now it shall spring forth; Shall you not know it? I will even make a road in the wilderness and rivers in the desert."
voices-of-lee

3741 views

2019-07-11T15:19:00

source: Voices of Lee A cappella sensation, Voices Of Lee, perform a beautiful rendition of 'Way Maker.' This powerful song was originally recorded by Nigerian gospel singer, Sinach. Contemporary Christian artist Michael W. Smith also released a version of the song.

"Way maker
Miracle worker
Promise keeper
Light in the darkness
My God
That is who you are
Way maker"

Today, the Voices Of Lee are belting out these heartfelt lyrics for the entire world to hear. This a cappella group garnered worldwide attention with their cover of the Hillsong track, 'What A Beautiful Name.'

Since that time, they've continued to use their voices to lift up His Name in praise. You can truly feel their love and passion for the Lord as they sing the words of 'Way Maker.'

"You are here
Touching every heart
I worship you
I worship you"

This incredible a cappella performance reminds us of the glory and love from our Father in Heaven. Let us lift our voices in song and praise this Way Maker.

Isaiah 43: 16-19 "Thus says the LORD, who makes a way in the sea and a path through the mighty waters, 17 Who brings forth the chariot and horse, The army and the power (They shall lie down together, they shall not rise; They are extinguished, they are quenched like a wick): 18 "Do not remember the former things, Nor consider the things of old. 19 Behold, I will do a new thing, Now it shall spring forth; Shall you not know it? I will even make a road in the wilderness and rivers in the desert."

Today's Devotional
A Prayer for a Humble Fear of God - Your Daily Prayer - November 19
Top Artists